*Sponsored Post
Before I start to blog about my wedding, I want to acknowledge the people who made it possible.
This case, my hair sponsor Shunji Matsuo.They have put in so much effort to transform an ugly ducking to a passable swan.
U know it is so hard for me to label myself a beautiful, gorgeous, pretty blah blah… so is pretty much a fine line between looking at myself and go 'wah sey chio!' and/or 'I wana puke Right now!'
depending whether I'm with or without makeup.
So I entered Shunji Matsuo with this dirty ashed coloured hair with black roots, nice ombre not?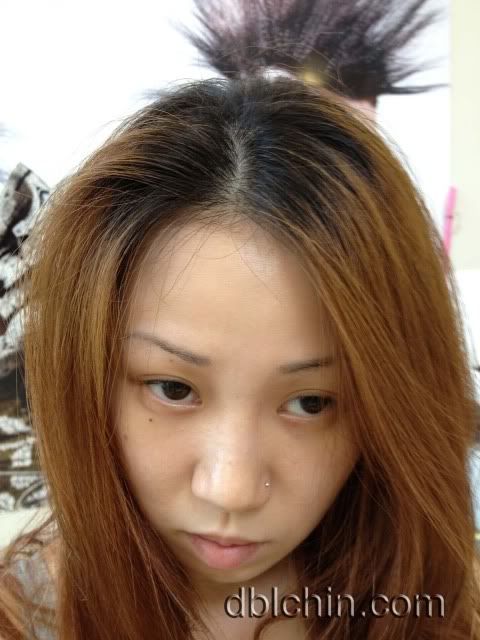 dbl Side note: This is the I want to puke right now Photo.
it was a family of browns, walnuts, almond that I can't wait to get rid of.
So I discussed with my hair stylist 'JUSTIN JAVIER' at SHUNJI MATSUO HEREEN (Read, in CAPS. u know where to find him & where)
about going red and my wedding is up close so I'm afraid to take the risk of ruining my hair and all that nonsenses. After I told him my life long grandmother story about my hair he replied in a soft melodic voice ' oh ok, y don't u go all out red then?'
I'm about to shoot my own temple coz I knew I wanted red from the start and I had to tell him a long tale of my existence just to made him assure me that I like red. *Gun in head*
So I said ' ok go ahead' *pull the trigger*
Actually I took a capsule of sleeping pill the night before so I was practically drifting in and out of coma during my hair colour process, so I subconsciously stained my neck, ear, face, fingers almost everywhere except the toes.
At first it came out awful, like patchy orange at some areas but eventually I went back to fix the next day and it was like vavaroom Victoria Secret Model~ *blow kisses* no thank me please.
dbl side note: this is the wah sey chio photo.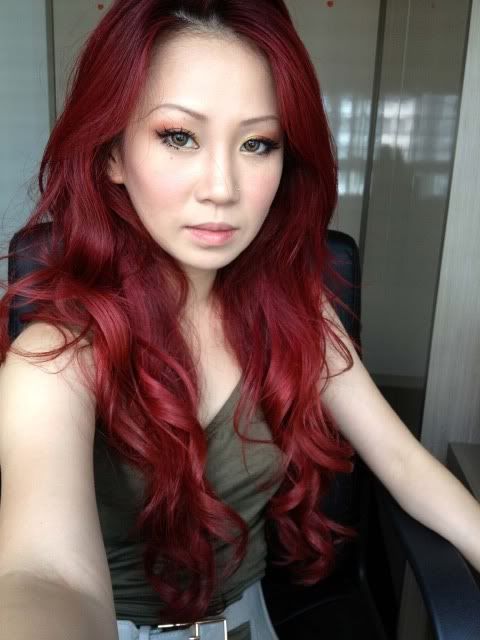 This was 3 weeks after I had my red hair, FML y did I chop off my long locks in the first place?
Ok a little about this hair colour Treatment, so u know and u can go find JUSTIN to do for u:
This is a Arimino Asian Colour System which is suited for asian hair as it removes the orange and red undertones commonly found in Asian hair. Its unique 'Multi Complex System' also makes it possible to customize colours from its extensive
selection of 60 colours and shades in its Alkaline series and 30 in its mild Alkaline series, making it
less damaging and suitable for sensitive scalp with its lower alkaline levels
A key feature of the Arimino Asian Colour System is its 'Inner Colouring Prescription', which allows
colour pigments to be deposited deeper into the hair, resulting in richer and long lasting colour.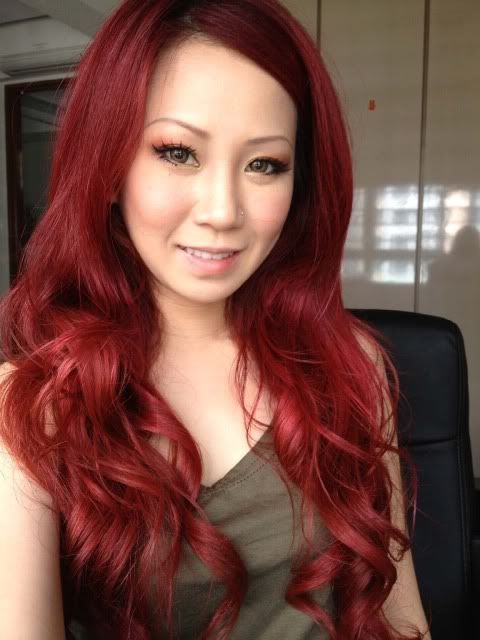 Justin is veteran a hair colourist, he is an indispensable talent for the salon.
I thank him for making me the most outstanding bride for the night (usually my criteria of outstanding is to stand outside the classroom)
&
I'm sticking with him for now.
Shunji Matsuo Salon:
260 Orchard Road #05-01, The Heeren, Singapore, Singapore 238855
Tel: 62381522/62381514