A while ago, Camy from
Beauty Direct
offered to send me some falsies of my choice to feature on my blog, me being a huge fan of fake lash I had to say yes!
So I took my pick from a few selections from under starlash: Tokyo Lash, Duchess lash and picked up a few mini bottles of lash glue just because they look so cute!
Not forgetting Starlash Signature Brown pencils, lets touch on these now!
Look at the extensive range of lashes they offer, this is beyond crazy. I'm sure you can spot some awesome halloween choices!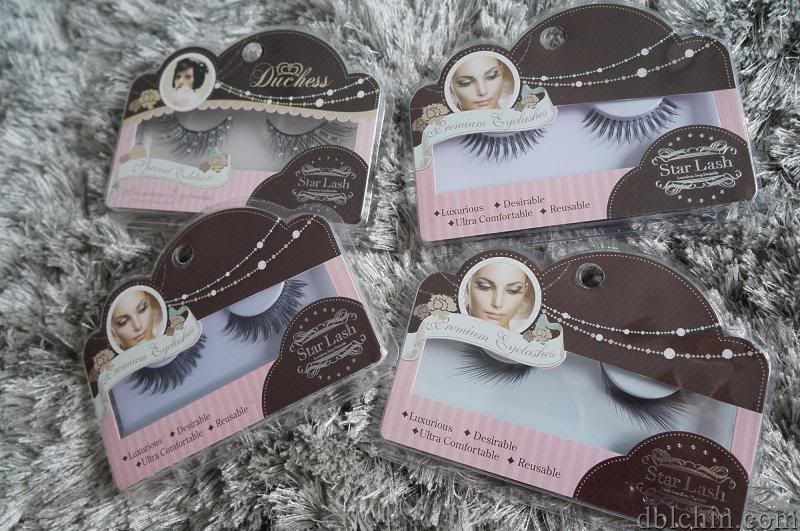 Huge array of choices from Starlash, from left clockwise: DB35, P16, P10 & DB28
Pocket size lash glue that fits into almost anything!
Comes with a wand that helps to coat lash bone easier and leaves no mess onto my fingers, glue comes out semi opaque and turns clear when dry. You bet, is super duper stick proof!
This is, the best eyelash glue I've used by far.
However 1 thing to note, because this glue is pretty minuscule and the bottle opening is narrow, the glue might get trap around the neck thus create a minor mess around the opening so becareful on that.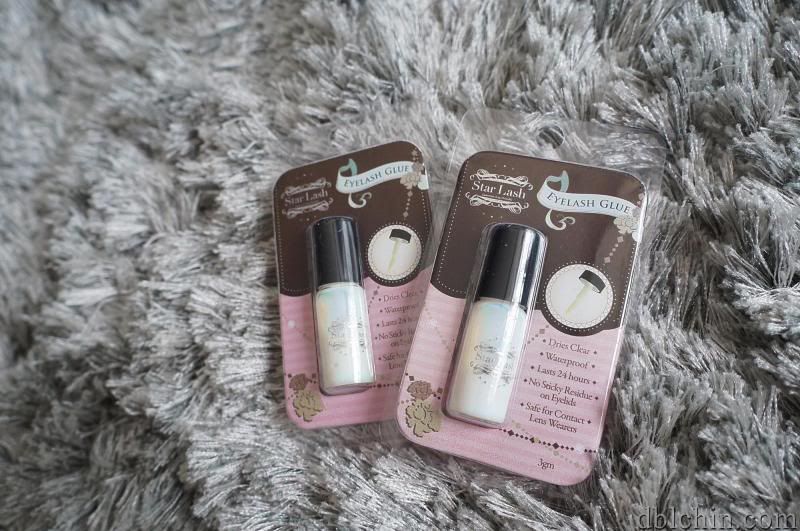 Each mini Starlash Eyelash glue comes in the size of 3 grammage. 
Starlash brown pencils are pretty mediocre, I think I've used better one but their Automatic Gel Eyeliner Pencil is what keeps me going. Even thought the lead looks a little broader than usual pencils, it glides like butter, goes on well and…hmmm pretty smudge proof I must say even at the end the day I still get little dark impressions under my eye which is inevitable due to my oily skin.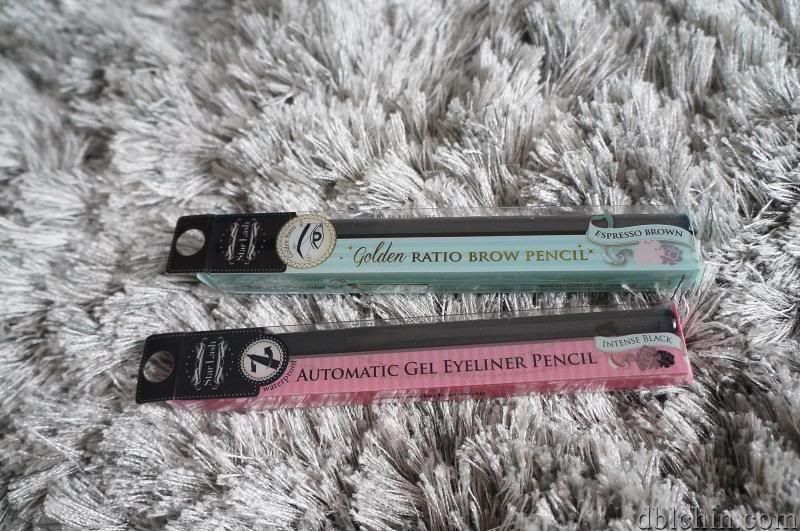 The everyday staples: Golden Ratio Brow Pencil in Espresso Brown and Automatic Gel Pencil in Intense Black all available under Starlash makeup section
I've used Tokyo Lash Collection (
available under the 
Tokyo Lash Collection False Eyelashes
)
 for my graduation piece aka makeup portfolio at Cosmoprof academy for my models and of course myself on usual days. Lets take a look and maybe you'll get some inspirations for this coming halloween!
The geisha fashion look, completely over the top and exaggerated which is why my choice lands on this super crazy pair of long lash. If you have small eyes like me, don't even attempt to try this out on normal days. Halloween is exceptional.
An Inspired Geisha Look with Yumiko TL008
This is currently my favourite Falsies from Starlash mainly because it gives a not too over the top look yet still manages to give a clean glamorous outcome to the entire makeup. In addition, the soft tip on lash gives the wearer a fluttery effect when she blinks adding a tinge of romantic sweetness.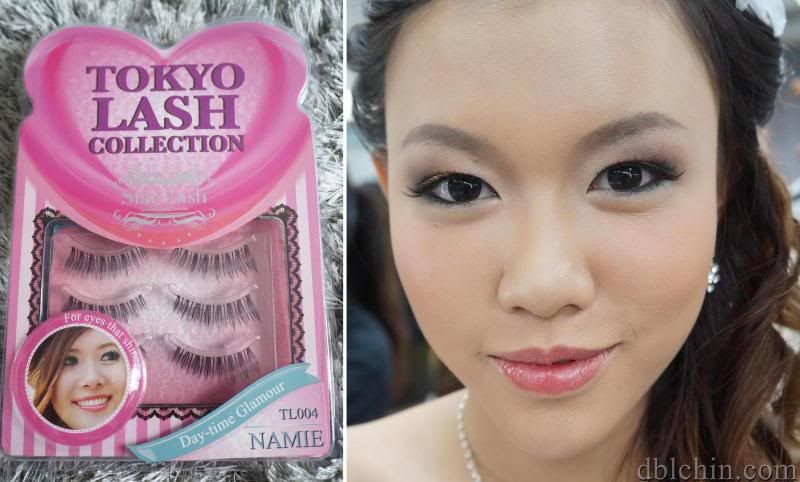 Bridal Day Makeup Look on Charlene
I sported a different look using the same lash, slightly nerdier but chic nonetheless. I layered on 2 pairs to compensate and balance out the whole eye when my cat-eyeliner took over the attention. Also it gives me a reason to exaggerate my eyes behind my pair of glasses without lens.
I'm definitely a fan of Namie TL004
Here
Silver
is using Starlash Premium Lashes DB28, sorry I didn't have a direct reference pic next to it but you can click on the link
here
.
I'm creating a Audrey Hepburn inspired look and as we all know Hepburn is obviously angmo with indefinitely amount of long curly lashes. In order to replicate that I drew silver's top eyeline and waterline thicker than usual to give it a fuller look and bond her natural lash and starlash falsies with mascara. Let me know how I fair!
Silver's pretty to being with, makes my job a whole lot easier. 
Last but not least, here I'm using TL001 Erika for one of my daily looks, this look is pretty well received and I've gotten a handful of likes on my facebook photo, probably because of the choice of eyeshadow colours I've used and the entire sweeping back of hair + a little bit of the 贵气 air.
fyi I'm using Limecrime eyeshadow here, you can read more about it over at this link .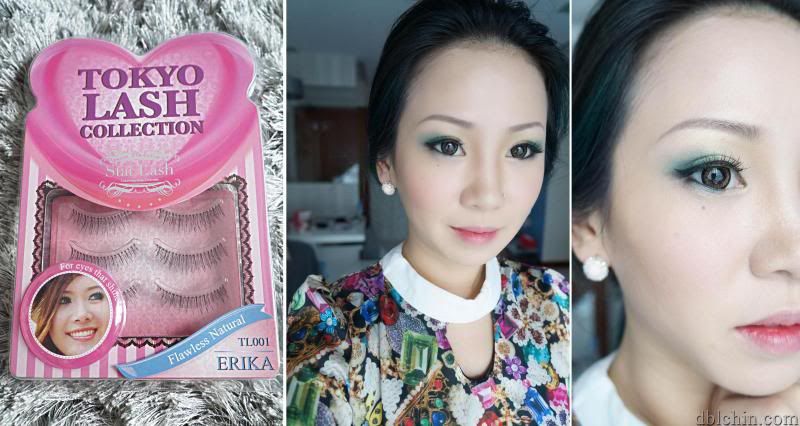 Tone down the appearance with thiner more natural falsies when you have an overwhelming array of colours on not just your face but body. 
♥Dblchin
*Products are sponsored but opinions are entirely my own. I was not told to include any link to any of the products but in order to make you search easier, I've tried to include link to each lash.
*PS- the website is not very search friendly, if there is a particular model you need to look at, Click View all and scroll down the pictures instead of using the search bar provided,