Sponsored
Hiya dblchinis.
As mentioned on my previous post, I've happily bomb about how awesome SANA sensitive skincare is
&
now this is even bomber.
a range of cosmetics just for me!
Not just any, is…
JAPANESE COSMETICS!
*Very happy confetti*
I really like the nudes, pale pinks, Lightest shade of eyebrow clrs and a whole lot of fab pastel colours available from SANA in SINGAPORE (sasa outlets).
Now I can pretend to walk out like the models in Jap Mag.
Shameless right? I know.
Previously I got a comment :
Quote "I was wondering, is your eyebrow color different? I am slightly colorblind, and it doesn't look black! " Unquote
Yes Is definitely not Bad black at all! Because I'm using the lightest shade of brown (New Born Styling W Brow SB3 SGD $25.90 total 3 shades) from their range.
I'm now using the brow pencil to outline the brow.

And this is when the magic comes in…
I use the another side of the tip to comb through the browhairs and filling in of the gap.
It looks like a mascara wand whereby I can coat the hairs, very matchy matchy to my hair colour.
This shade is really pretty, and colour is seemingly light. Thus if you have deep black hair I suggest u go for a darker shade.
Yea I actually finished drawing my eyebrows, these pic are just purely posing. For camwhore purpose only. lol~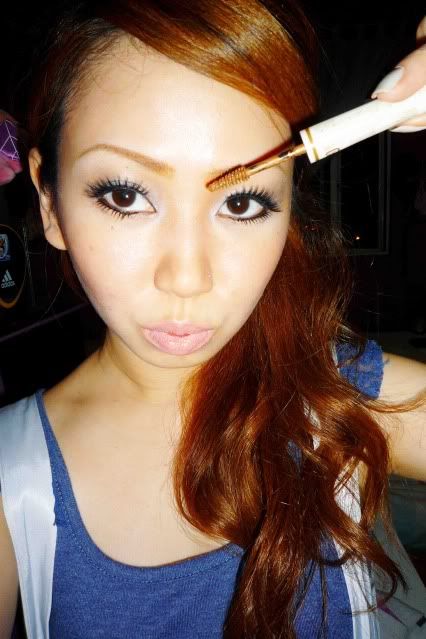 If you are interested in my lips, U may kiss them now.
Ok I pictured ur disgusted faces.
Well nvm, coz u will after I introduce u this awesome nude pink concealer (SuperQuick Gross Concealer Ex 02 Baby PinkSGD $19.90 total 2 shades) .

Is so nude, is so pink, it seems like it has totally blend right out your skin tone but with a tint of shade.
The trick is to feather slightly when u apply over your lip line so that there will b no definition .
And by doing that u will see a glow/shine around the edge of your lips, do not worry is not ur time to meet god yet, instead is the 3D effect that had cast a pout lips, making it look fuller and supple.
U dun neeed a lip pencil with this at all, the purpose is to look like you have some shine over the lines.
I totally recommend this.

Blush
(Maiko-han Cheek Deep Cherry Blossom SGD $32.90 total 2 shades).
A fan shaped blush brush for your cheeks!
They have a palette of tones (see below) so when u swipe the colours together it wouldn't look too harsh on your cheeks.
Pardon my pinkie.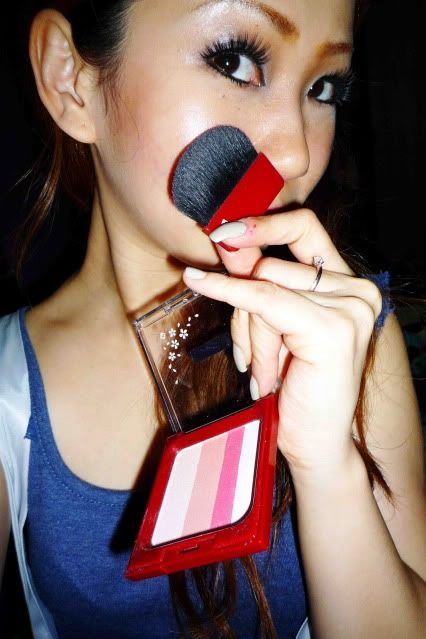 With the slight shimmer on the blush palette it gives my skin a healthy glow.
At first I was skeptical when Carra, Sana's manager passed this to me. I wonder if this will bring out the oiliness on my face because of the shimmer.
But guess I'm wrong, instead of adding oil to my face, it actually adds sparkle on the apples.
Well…If you ain't comfy with the blush brush provided, u can always use your own ATAS brushes.
But a dblchin tip for you, this brush is so useful it not only can b used on your cheeks, it can also use to contour the sides of your nose. making it look sharper, more define.
Just get a taupe colour and dipp the brush in & walalal!
(ok do u spell walal?wlalal? wahah?I've been trying to spell that for the past 2 hours.)
it fits right onto the contours of the sides of your nose, easy isn't it? Maybe I'll show a video on that soon.

Last but not leastest, Sana product used on me for the day.
Pore Putty Face powder (Shit I dunno how much is this for! go Check out SASA)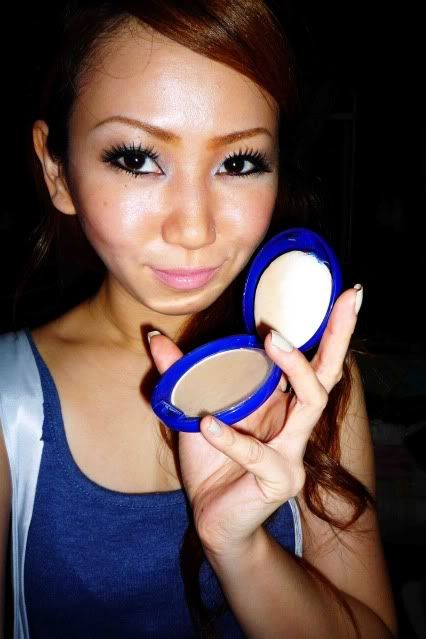 This compact powder is awesomeness It blends so well into it doesn't leaves my skin patchy!
But this is not my base foundation though, I use this to touchup my makeup during the day and to mellow down the shine.
I also use this on days when I just want a fuss free outing without the use of heavy foundation or bb cream. Because it is really fine it manages to hide my superficial flaws and blackheads.
But pls dun expect this thing to conceal your thousand year old freckles, this is not magic potion.
Oh yes, btw all above photos are taken at the end of the day!
So
Judge for yourself dblchinis!
TOODLES~!
*Though these products are fully sponsored, every word on this blog entry expresses my own honest thoughts and opinion.