I received a set of Clio products sometime ago for review, to be honest I don't think this brand needs any introduction, K-products are always a bit hit among ladies in asia.
However, I must say a lot on its packaging, their effort must've paid off with the collaboration with various artist with creating their very own unique pieces.
These makeup are almost like a walking canvas, found in purses and handbags of yours and mine.
Clio Twistturn TurnLiner – Star Gold and Night Purple $23.90
available in 8 shades :Star Silver, Star Gold (2), Brown Earth (3), Urban Khaki (4), Stage Navy (5), Night Purple (6), Club Black (7), Urban Black (8)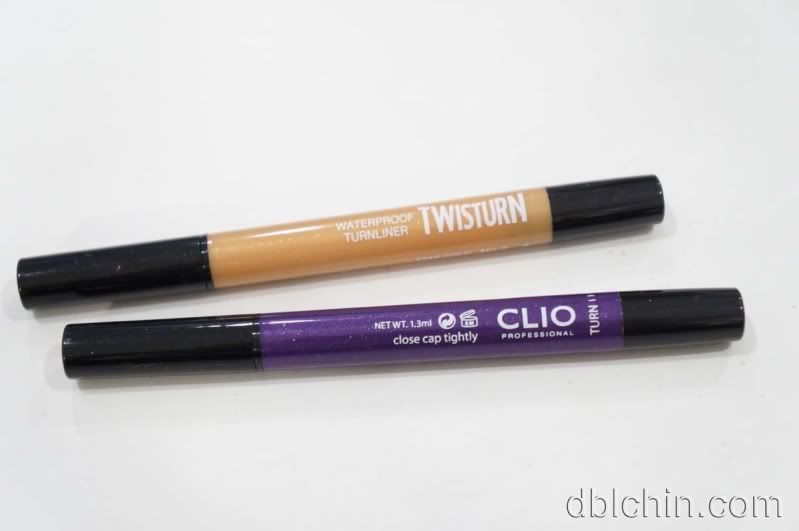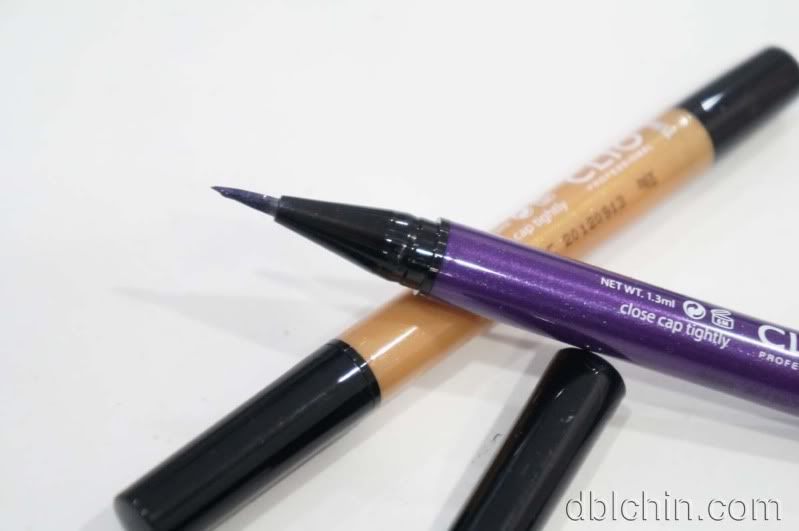 The very well known product in Clio collection, this TwistTurn turnliner has a precise tip to it. Just like its name, you need to twist till you get that liner dispensing from the tip.
The colour is very intense, hardly runny at all and glides smoothly onto the eyes. With that said, it also has a remarkable 3-D shimmer which is incorporated into the liquid eyeliner, is hypoallergenic and can be used as an eye shadow like liner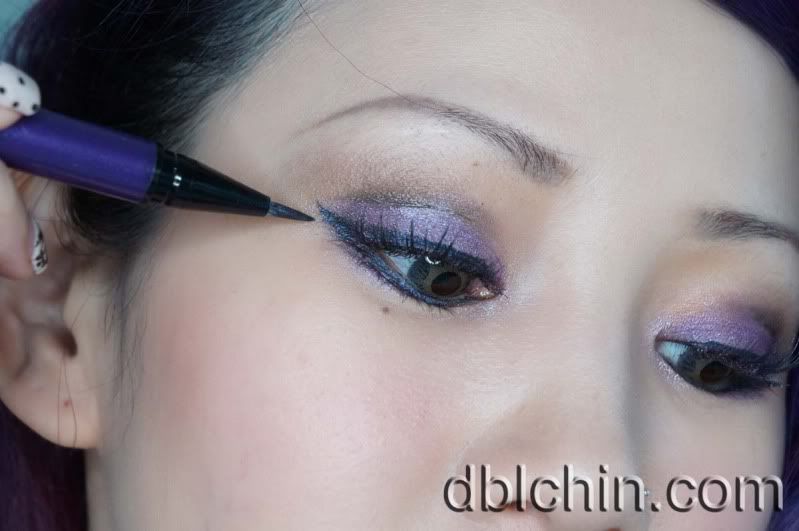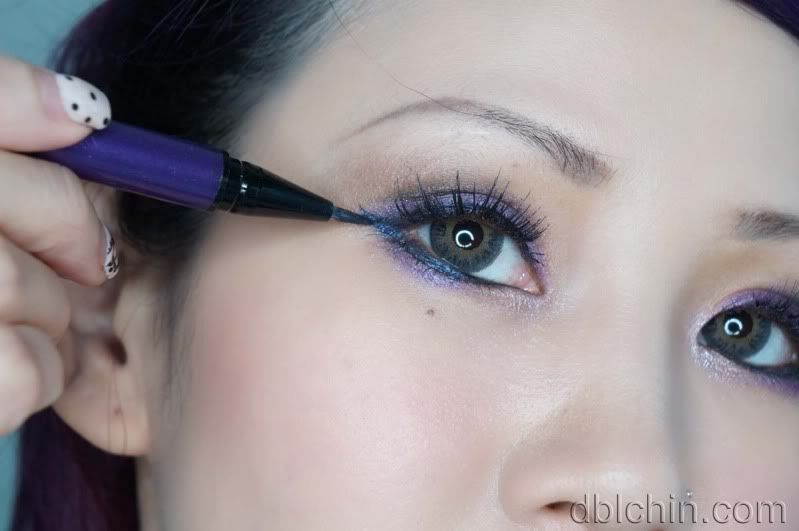 I'm pretty sure some of you find this look familar, yes is from the Philosophy plum fairy makekeup blogpost  I did using Clio's Night Purple Twistturn turn liner.
Is never easy drawing straight lines, the trick to it is to line bit by bit till you get the perfect shape you wished to achieve and of course a hell lot of practice!
Clio Art Shadow in Forte Orange Brown (410) Duo: $ 23.90, Trio $25.90
Available in 14 colors with Key colors: Forte Orange Brown (410) , Forte Gold Black (416), Forte Land Gray (420) and Matted Urban Brown (502)
TrioClio Art Blusher Pink (2) $33.90
Available in 4 shades with single and Marbling Colours: Peach (1), Pink (2), Rose Pink (4) and Orange Peach (5)


I have to say their trio eyeshadow quads forms pearl-like shimmers that gives a nice shine to it but it wasn't as pigmented as I thought, the dark plum just gives off a rusty opaque shade that is hardly visible on the eyes. However, with finger application like how it works with most eyeshadows, it stays on pretty well though. Although I have to say I like the combination of Sara's trio quad better, probably because it has sparkles of gold in it I'm still satisfied with what I've got.
Swatches
3 left colours- Forte Orange Brown
Colour on right – Blusher Pink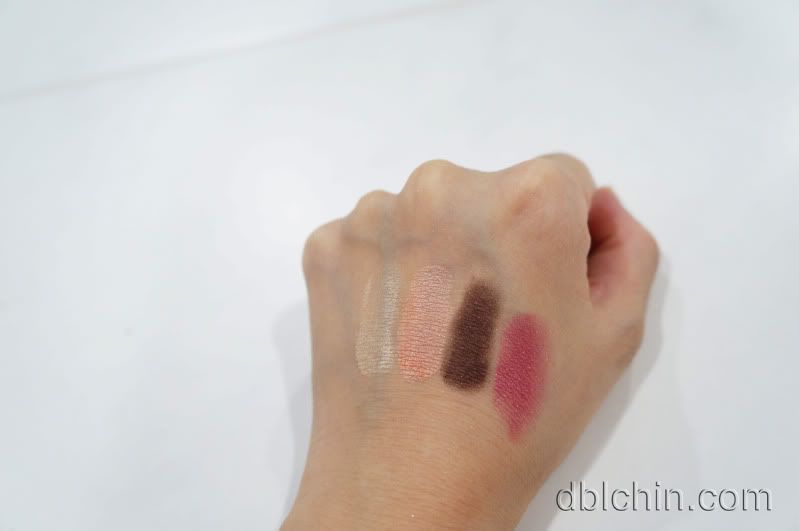 This art blusher is definitely going into my favourites. Despite it's massive circular shape that deems too bulky for my handy purse, I have absolutely nothing to complain about.
When I first opened the blusher I was shock by the plum that carries so much shimmer to it. I never had a blusher this shade before so is a big risk for me to take. I thought to myself, this is too strong for my taste, I'll probably set this aside for someone else.
However, I had a second opinion when Jacelyn's Solemnization came along, this incidentally happens on be my dresser while I was dolling up, so being a risk taker I pick the brush up (included in the packaging) and made small sweeping motions, going very gently with every sweep.
Little did I expect, this is how awesome it looks with that plum shade, plus it compliments beautifully with red lips too.
It definitely pays to take the risk!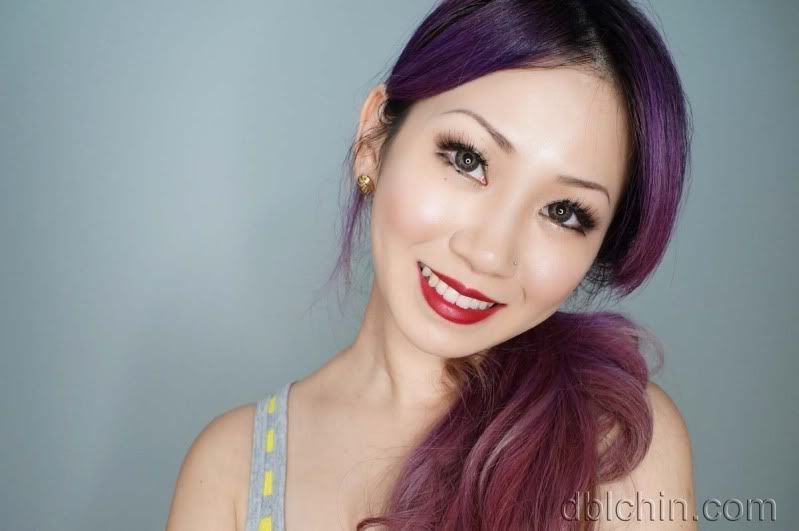 Clio Art Lipstick-Paris Pink MO24 $23.90
Available in 6 shades: Red (1), Pink Beige (6),
Orange Coral (17), Vanilla Pink (22), Paris Pink (24) and Grace Pink (26)

Clip Art LipGloss – Glam Cocoa A128 $23.90
Available in 6 shades: Nude cherry (101), Glow Orange (122), Pink Shot (125), Glam Cocoa (128), Lucid Peach (129) and Apricot Peach (132)


I haven't really try on the nude lippies, I'm more like those either I go really nude,it means without any lipstick or gloss or put on a loud colour to rock the town.
I have grown to like fushia pinks and reds overtime and is still growing on me, I can't review much on this but I will when I get the chance like what the Art blusher did to me,  I'll send them to the favourites.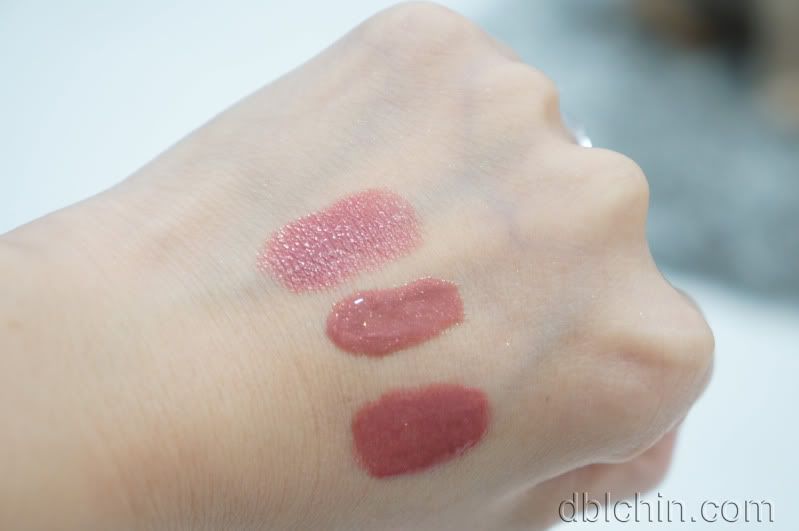 ♥Dblchin
  Please Thumbs up for my page :D