Sponsored


Helloooooooooo dblchinis~!
Ladyfinger
, a new edge lifestyle nail spa has decided to sponsor me an afternoon party for my 2 friends and I.

Yes thanks
charlotte
, our very own beauty blogger for letting me know of this great opportunity muah muah.

Since one of my frd is getting married soon, I decided to make her the star of this party.
M I the bestest friend in the world or what?!
SO I headed down with my girls for a hi-tea fun at Ladyfinger Orchard Central
# 04-20/21
An introduction to lady finger:
Established in 2004, Ladyfinger offers a unique overall experience by offering a creative concept together with food & beverages for you to unwind.
To date, they have expanded to include a total of six outlets island wide. All their outlets are created each an uniquely themed concept to provided an exclusive customer experience.

Look at the array of nail items on their rack

They have polish ranges from OPI to Orly.
And whole palette of coloured gel polishes.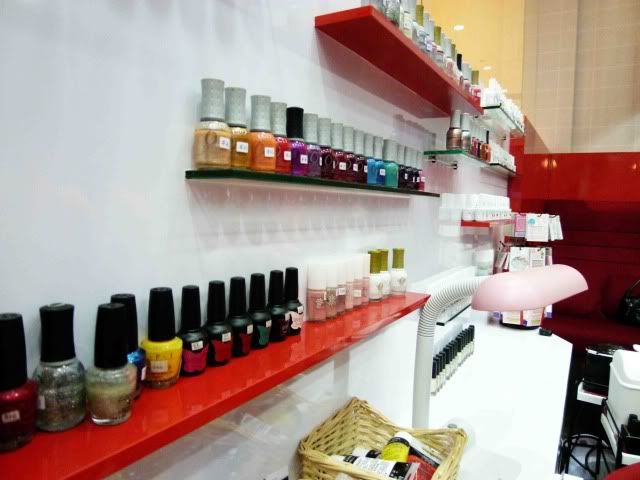 Comfy armchairs waiting for devour us.

So since they know we are in for a treat, they have customized a series of nail services for all of us.
And here's the bride, Corine.
She will b receiving a Ladyfinger Ultimate Spa Manicure & Pedicure Gel Polish for Hand & Feet (worth $247.10)

Claire will b receiving
Ladyfinger Signature Manicure & Pedicure (worth $61.65)

As for me, the dblchin, I will be getting…
Ladyfinger Signature Manicure & PedicureGel Polish for Hand (worth $126.65)

Lets get started.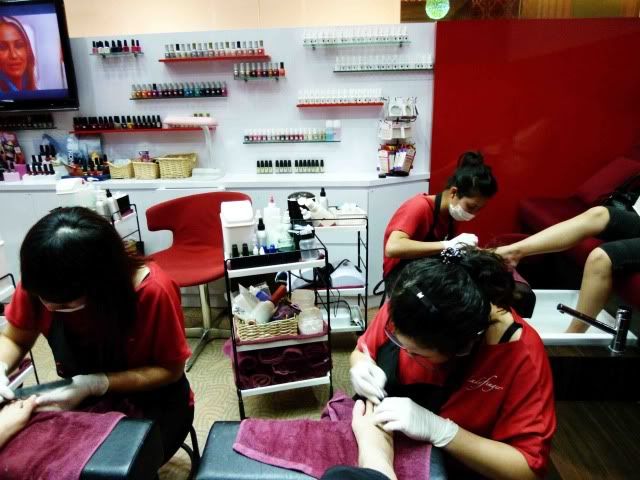 They first soften my cuticles so it'll be less tough to remove the dead skin later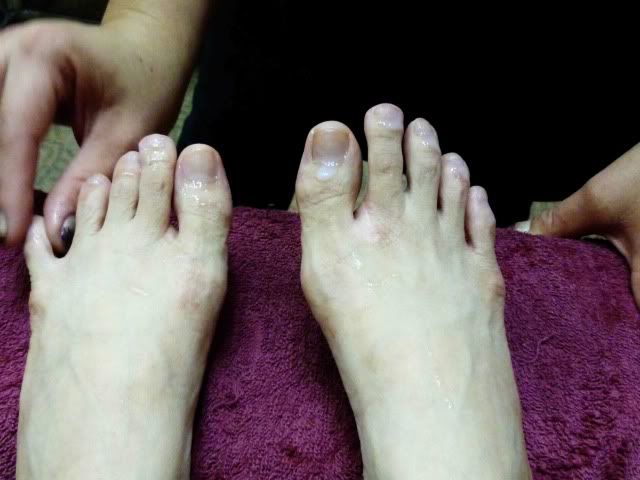 The whole session was fun and comfy
We have mowieeee to watch too '
Knight and Day' starring Tom Cruise & Cameron Diaz.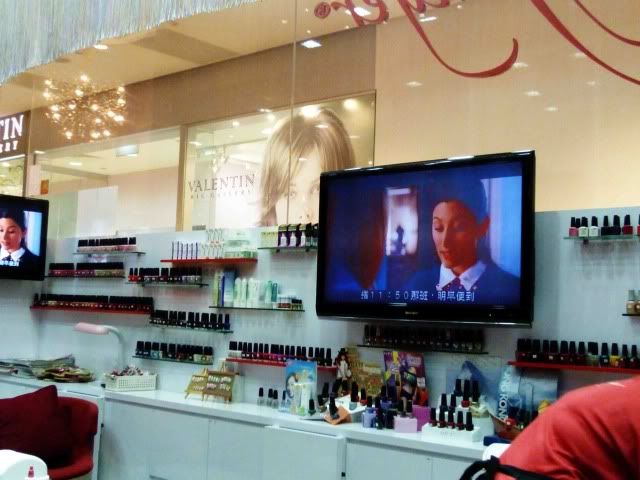 & Before I know it my feet is beautifully painted.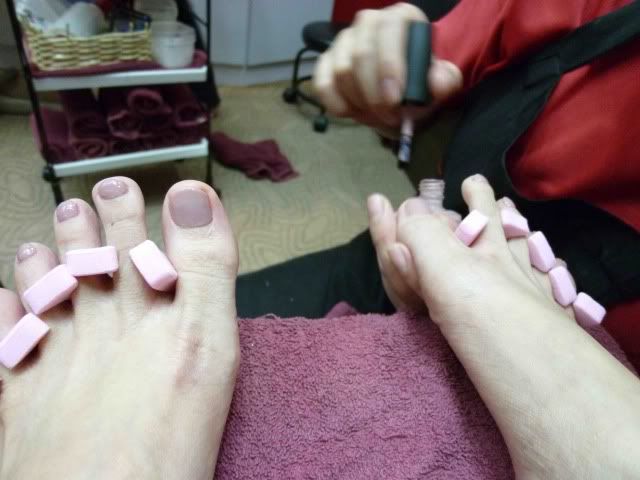 A series of palettes for you to choose from…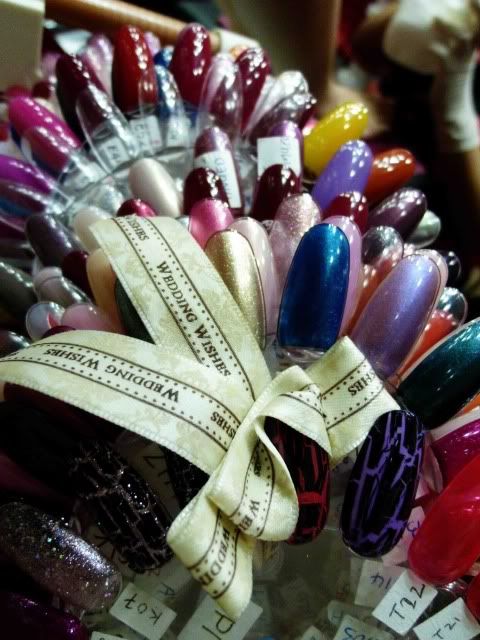 Checkout the princess watching Tv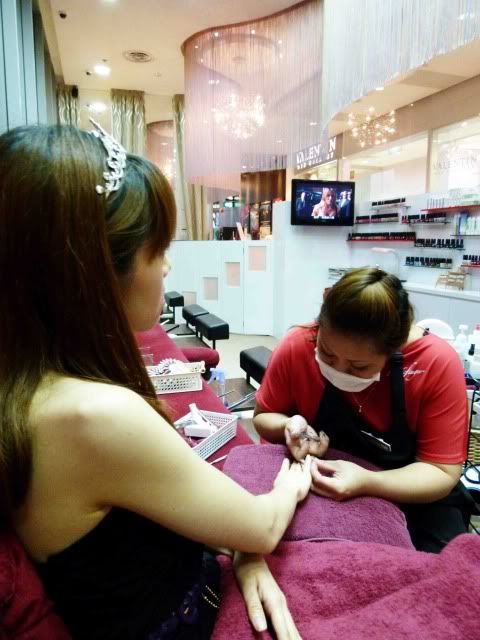 For gel mani u gotta put ur hands into the uv box for the gel to set. I told the corine if u put ur hands in it long enuf u will get a tann line. She seems convinced.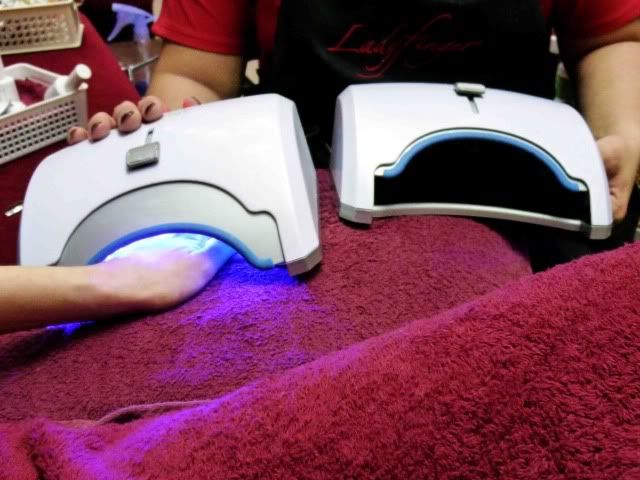 During the partiee session, we got served sandwiches as well as sushi,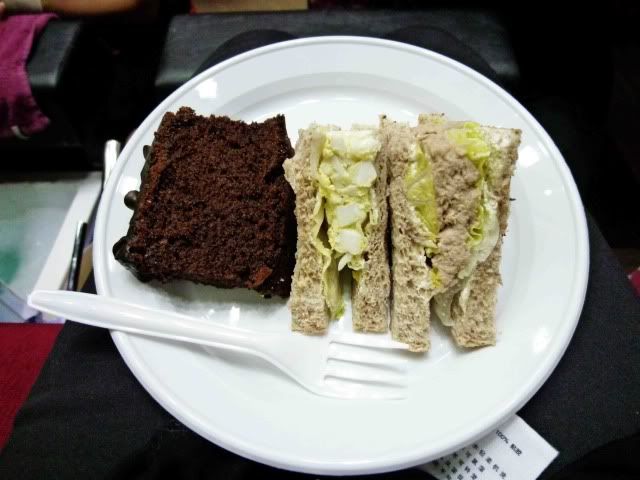 Preparing to devour into the sandwiches

However miss bride-to-b got her hands full she couldn't eat with her hands.
Yakking away on the phone….
So guess who's her temporary servant?
(*hint : letters D.B.L)
1 hour later…
.
.
.
.
.
.
.
.
.
.
.
.
.
.
.
.
.
.
.
.
.
.
.
.
.
.
.
.
.
.
.
Still yakking…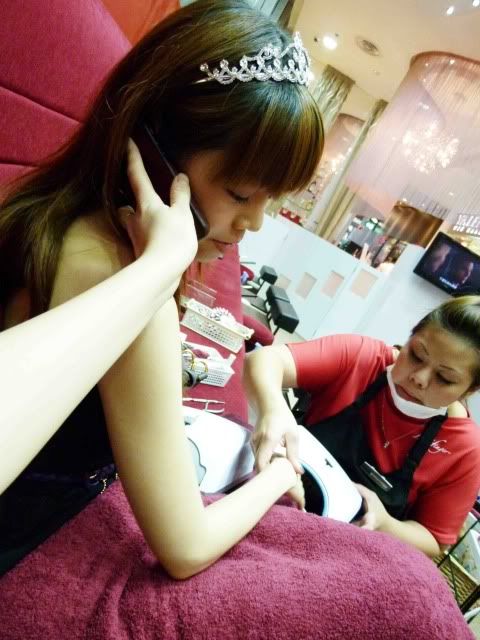 Ultra woman.


Hands cling wrapped to prepare to fit them into the spa bag.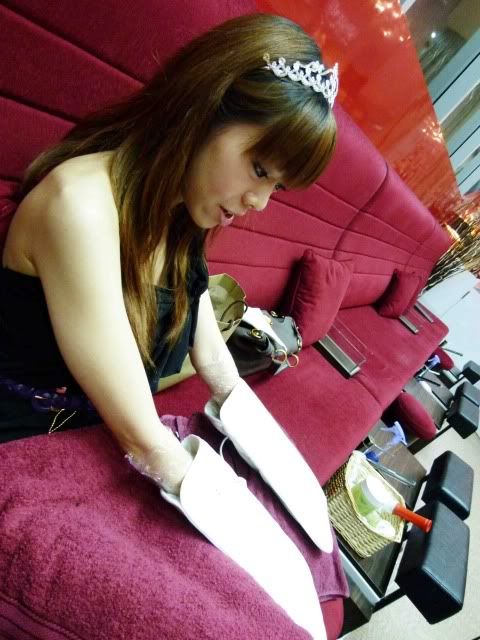 Claire's classes mani and pedi turns out to b a pop of block cols!
Check out how awesome these 2 bold colours look together.
Claire looks like an Angel, in fact shes a little devil.


I didn't catch many pics of her is because she's sitting too far awayyyy!
Claire next time sit on my lap & do ur mani!
Bridey got hers in glitter French, I knew she's quite anal about having mis-match clrs thus we had highlighted to the manicurist not to differ both mani n pedi clrs

Very happy with her tiara.
And mine is subtle dusty pink on my toesie & french glitter fingers.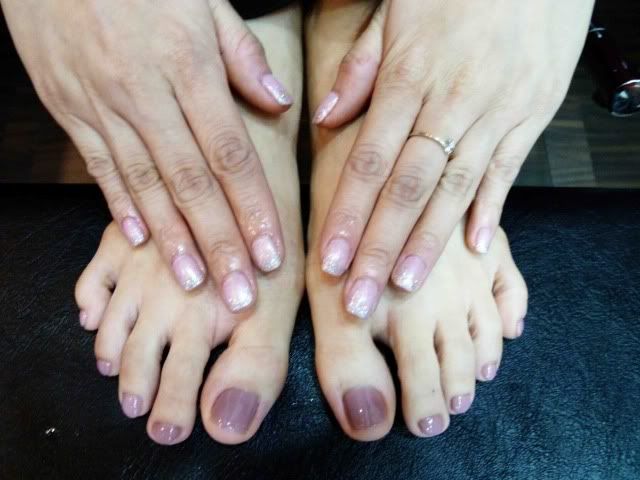 I'm trying to get in the bride mood too

We are now a bunch of happy girls~

have to say the gel that
ladyfinger uses is really of excellent quality, is been almost 2 weeks and my nails hv grown a distance already but the gel is still firm n intact to my nail bed.

I remembered that last time I went to a nail parlour with a frd in Msia-jb, hers chipped right nx day right after doing gel polish. Mine was acrylic extension with gel overlay also chipped a few days later.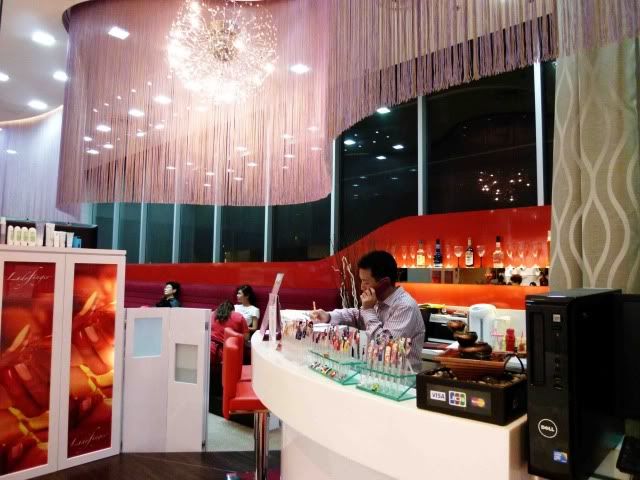 I not only enjoy the services ladyfinger provide but the chances they have given in employing staff with disabilities.
The lady that's serving me, is hearing impaired. But she tried her very best to communicate and read my lips, she's is also merticulous in handling my skeleton toes, from tine to time she will ask to ensure that I'm Feeling comfortable.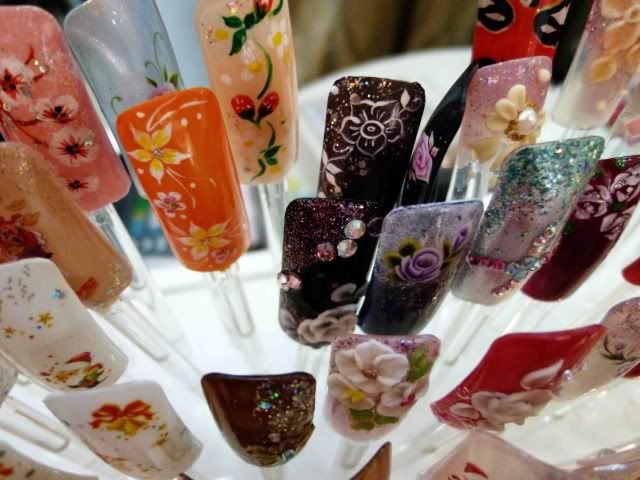 I hope to c more local business, regardless of retail or manufacturing giving hope to people with disability and a chance to blend into the society.
Very proud of ladyfinger in this case.
So I hope you dblchinis can also support them by liking their facebook page here:
LADYFINGER
Have fun and Toodles dblchinis~
For Ladyfinger outlets, please check it out over here

*I'm not paid to blog this