Ok maybe I'm hyped up with this crazy hair colour, I swear this is the last time I'm posting a full-back of myself looking like the pacific ocean.
The truth is, we all can't get over this awesome hair colour right bo? I'm pretty sure you feel that same too.
I was browsing through the internet and coincidentally I found something of the same family and grabbed the closest pick.
I photoshopped a side by side comparison to see how internet worthy my picture is.
The picture from on the left is somehow leaning towards the candy pop theme and mine, like I've said a thousand times before, colours of the vast ocean.
Both contains the same amount of hues but the effect that came out feels completely different.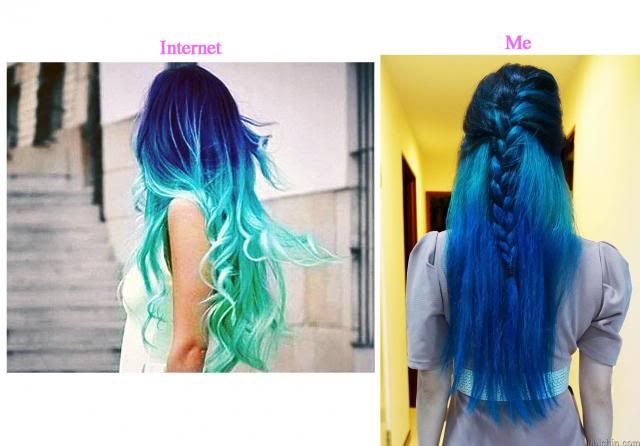 Internet Worthy? you be the judge
Oh I forgot, I'm suppose to talk about my outfit, here I'm wearing a brown work dress I bought from Korea and proud to say it cost me only 10 SGD. The material's great and it fits! (I took a bet on the size because of their no-trying policy in the boutique)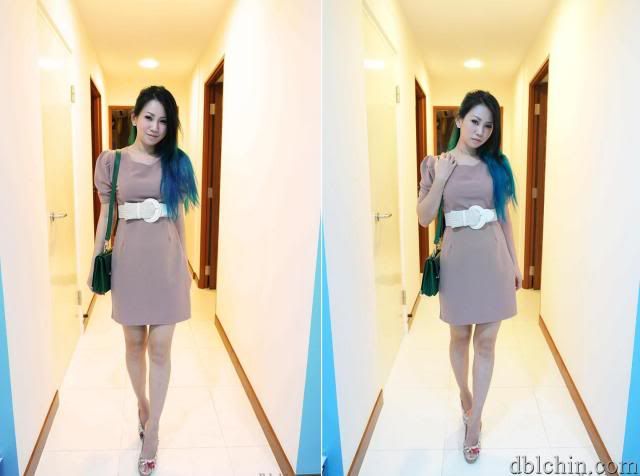 For a more shapely figure match it with a belt, secure it at the empire line for a longer torso.
I know the default brown(which carries a more orange tone) usually makes one look a little older/mature this is why I decided to go with the Taupe family instead, almost like stone it has a tinge of grey in it.
There are choices of colours to choose from in the store, from taupe to black and white but I decide to ditch the monochromes simply because I have too many whites in my wardrobe (also a very dangerous colour while I'm on my period) and black is just black, so stone brown is my best choice.
In order to minimise the colours, it'll be good if I accessories to the same family of colours, so here comes my 2way clutch bag bought from Jipaban (link here). Is cheap dunno what 10sgd only and comes with a sling handle for multiple ways to carry.