Helllo dblchinis!!!
U may or may not have read about e last few post on my removal of wisdom tooth.
But U can read it here right now~
Actually, tooth removal is a dreadful thing, I've gone through that to prepare myself for….
INVISALIGN
The revolutionary technology by mankind!
I really detest my crooked teeth, especially the bottom set, is constantly affecting my smile.
That's y I hardly give a wide grin…

Because I know is FREAKING CROOKED!!!


But Thank god, I my gums looks relatively Pink and healthy.
Now I just need to deal with the over crowding bunch.
But how?
I constantly thought of Braces, but I anticipated its long tedious process.
And I strongly believe, to become prettier, U have to endure the ugly process.
&
attaching on Braces means a good 4 to 5 years of UGLINESS!

Regardless even if You Have them in COLOUR…
or COLOURS…

Or even with Ceramic Brackets that has less visibility


They still look awfully disturbing with colours of steel,
&
especially when u open your mouth to smile!
Well…. some girls still look gorgeous with even with braces But for dblchin to wear braces & still able to act like a camwhore demon?
Seriously, not possible.
So I ditched the idea.
Until… along came Polly Orchard Scotts Dental Carrying a box of invisalign…

& my life changed. Literally. starting from my teeth. Now.
So What excatly is Invisalign? And how awesome is it as compared to braces?
Invisaligns works exactly like Braces, Their bottom line to to straighten teeth and keep them uniformed, so the key difference is in their Techniques of application.
So How excatly is Invisalign suppose to do us any good?
TIME FOR A SHOW DOWN,
PLASTIC VS METAL.
Round 1
INVISALIGN-A clear high quality plastic mold called the Aligners that fits right onto you teeth with zero Wiring/ Brackets
BRACES-Metal Brackets with wires to migrate your teeth into designated places.
A naked set of teeth with no visible disturbance? Or junk metals right in the center of each tooth?
I say, INVISALIGN
Round 2
INVISALIGN-Because is it made mold that u r able to snap onto your teeth by yourself, U r also able to remove them yourself during brushing hours, during meals as well as at times of important functions that u may have.
BRACES-No way! u r unable to remove them in anyway, the brackets are suck hard onto the center of your teeth, at the very end of treatment, when u remove the brackets u'll have a huge colour of contrast with rest of the areas on your teeth.
So who wins this time? Obvious isn't it?
Round 3
INVISALIGN- Will not cause Ulcer or any mouth irritation
BRACES-How many of you have gotten multiple ulcers every since u got braces on? or major irritation with the metal brackets rubbing inside of you mouth.
Still not convince?
BRACES-Are the metal wire hindering your way to flossing? Time Consuming isn't it?
I see you e crossing one leg over the the invisible side now.
The Finals
INVISALIGN- NO EXTRACTION IS REQUIRED. I have a choice of not extracting my wisdom, but I did because I can play around better on e circumference of my teeth better when I use the aligners. USUALLY No extraction is done with existing tooth, molars and front tooth etc. What they do is they only scale down the nail enamel, to create hollow pathways for overcrowding teeth.
BRACES-Woah, how many extractions have u dblchinis gone through? Plucking out tooth is SCARRYYY! And during the time when u have a missing tooth right at the visible part of your smile, do u wished u hide somewhere?
Invisalign also requires a shorter treatment time as compared to Braces, while braces takes at least 2 years (max 4, 5 year? maybe more?) for treatment to end, invisalign only takes an average of 1 year depending on individual.
well…The only good I can think of for braces is, it causes major discomfort that U might just go through loss of appetite thus resulting to weight reduction for the entire treatment.
Other than that, Who needs braces when u have INVISALIGN?
Especially when it is fully sponsored!
(Thanks to pearlin, shes really awesome. Without her introduction to the workshop, I wouldn't even get a chance to b sponsored. Thanks once again~)
Lemme share with you my journey to Straighter teeth.
Lets move along dblchinis, including my own set of teeth.
I've blogged about ORCHARD SCOTTS DENTAL before, they have an awesome bunch of doctors and crew there.
And
they are the Platinum Provider for Invisalign. With 'platinum' hovering around my vision, I have 100% assurance!
So R U READY??????????
Even u not ready, I'm still gg to show u.
It started with the cross section of my UGLY TEETH
BOTTOM SET.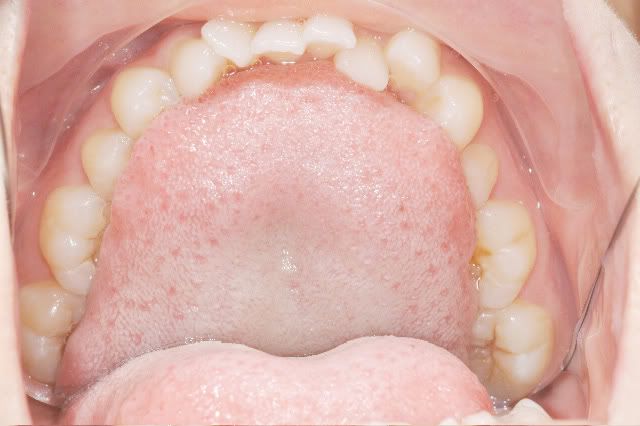 ..
Can u see the crookedness?
OMG.
And Top

The Side view is equally as bad.

So I pop by Orchard scotts Dental to take an impression of my teeth so that they could send it over to e main INVISALIGN company & generate a 3-D simulation of how my set of teeth will migrate overtime. U'll get to c that later.
Hey That's doc Jerry Lim & his assistant!
He is uber caring, always giving me his biggest smile!


Sometimes I think he frown when I smile back,
I dunno…
maybe taken back by my crooked teeth….
Ok check check, processing the mold impression.

Weee! These are the impression of my top and bottom set of teeth.
These pink ones got flavour somemore! smells yummy!


U know What? My mouth is so small, they need to Dig the smallest set of impression mold for me.
But then again, small is good, I dowan to look as if I can swallow 10 bananas at one time.
Ok this Parcel with my documents and impressions inside is ready to fly to USA!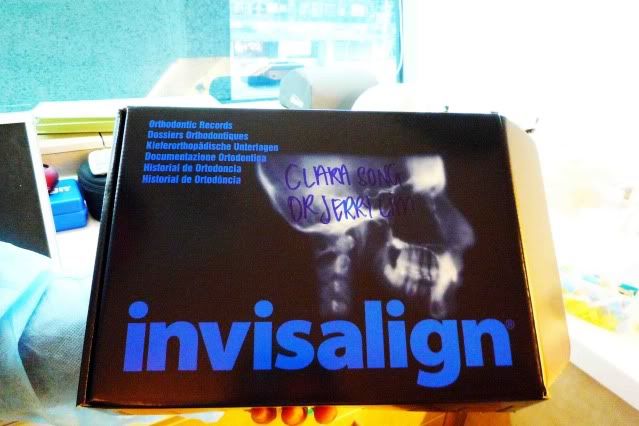 After Invisalign frm states (USA) Receive my impression, they will proceed to do a clincheck, a 3-D Simulation that show how my teeth will migrate throughtout the entire treatment.
And when the clincheck is approved, they will proceed to mke the aligners!
Lets take a look at dblchin's clincheck shall we???
Video 1- this is the front view of my clincheck.
You can see the tooth that are hibernating behind are slowly moving forward & yes is literally happening to me right now!
Video 2-Side view of my clincheck
U will b seeing the little pink stuff on selected tooth. These are called the attachments that will b fix on my teeth to serve as markings.
Video 3-Cross section of my clincheck
The one on the left is my top set of teeth and the ones on the right is the bottom set.
As mentioned, all these clincheck are approved with Flying colours!
My Treatment is a total of 52 good weeks!
(varies from person to person)
a year to b exact
&
I'll b in good hands TEETH!!! WEEE~
And so they proceed to make the aligners~


YAY! my aligners package.
And….This is what u all have been waiting for…
MY ALIGNERS!
(Bottom set)


I will not b using the same aligner for the entire 52 weeks.
Instead, Every 2 weeks (bi-weekly) I'll b changing a new set of aligners, with a different mold so my teeth will be able to move accordingly.
I need to keep my aligners in for at least 20 hours a day so that the teeth will root itself in the new position & that also includes during sleep time.
So when do I Remove them???
During brushing hours, Mealtimes and snack time & that also includes drinking ANY TYPE of beverage eg. Sodas, Green tea, milo…etc.
Only plain water is fine with the aligners intact.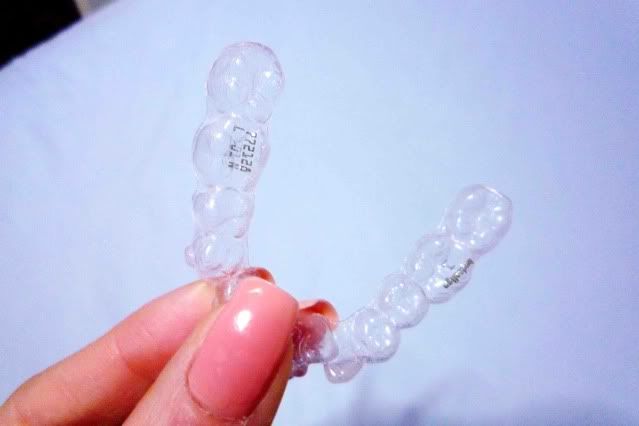 The little text letterings(see left) indicates which aligner I'm at now.
Eg. 01 means I'm on my first aligner .
If, 04 means I'm on my fourth aligner & also indicates that I've already completed 6+ weeks(depending on how many days I've wore my 4th aligner) out of my 52 weeks of treatment.
The above is only an example, in actual face I just started my 3rd aligner a couple of days ago.
And they also Have a word 'L' & that Means for LOWER set of aligners.
Real Easy right? Now U will never b confuse again!
As for now I'm starting the bottom set first, I'll be starting my top ones after I get to the 7th bottom aligner!
After wearing the aligners, I need to chew on this
Like chewing bubble gum like that!
This is to make sure the aligners fits snugly onto my set of teeth so that it locks both,teeth and aligners in position.
How my chewies looks like.


Nomnomnomnomnom


Children, pls do not try to eat this at home.
And of course they didn't forget to give me the necessary to store my aligners!
The Blue container is to store my current aligner so that I could just put them in whenever I need to take the aligner out


The one in red is to store the past aligner before the current one. This is to prevent any case of your current aligner being
CRACKED,LOST, MISPLACED
or
STOLEN
(very unlikely, erm…who would like a taste of your teeth plate???)
You can go back to the previous one while the dentist think of solution to replace the current aligner.
The Whole Treatment on average cost about $6,000- $8,000 in SGD
Cost for INVISALIGN are unlikely to go below $7,000 unless you case is very special or adjustments are made only minimal.
Ok Lets Check out how I look with Aligners

Massive Crowded Teeth but thats alright, I'll get better in no time.
I do not have any aligner on top teeth as mentioned earlier but the bottom one is affixed with invisalign.
So Can u see anything not???
NO RIGHT?!
.
.
.
.
.
.
.
.
.
.
.
.
.
.
.
.
.
.
.
.
.
.
.
.
.
.
.
.
.
.
.
Unless U go real close to check out my teeth!


So Interested parties, go check out INVISALIGN platinum provider from Orchard Scotts Dental now!
Be sure to look for Dr. Ronnie Yap or Dr. Jerry Lim, they are both seriously AWESOME and friendly too!
Hop over to Wheelock place now~!
501 Orchard Road

Wheelock place #05-08

Singapore 238880
or
If you have any query, don't hesitate to call or email them~
+65 67329939
enquiry@orchardscottsdental.com
Oh yes, don't forget to like their facebook page!
I will b update a post every 6-8 weeks so that I can share my Journey to uniformed teeth with U dblchinis. Do look out for my 2nd post soon~!
TOODLES~!
* Images of Braces & Plastic VS Metal are all from http://www.google.com.sg/images
aside from that, all other images TRUE documentation are of dblchin's herself.