I love adding colours to my life, if you open my wardrobe you'll probably be overwhelmed by the burst of hues I have in there. Same goes for my hair; red, blue, brown, purple. You name it, I'd dyed it!Just so you know, I've been serviced under Shunji Mastuo for 2 years and running.
Happy to say they have just offered me a re-contract for the 3rd year! Couldn't be more grateful than that.
Throughout my hair sessions with Shunji Matsuo, I was switched between a few stylist until Justin came in the picture. I've been receiving hair treatments from him for the past 1 1/2 years and I have to say is a well made-decision from the salon. His expertise in hair colouring drawn so many compliments from my family and friends. Ok maybe except for my mom, she thinks my form of hair colouring is a gateway to skin cancer. The thing is she colours her hair too, What an irony!
Last week I headed down to Shunji Matsuo (*address at footer) after 3 months of absence.
It was mainly due to the travelling (to Boracay) and my busy schedule, so glad I'm finally going to get rid of this dirty shade of yellow.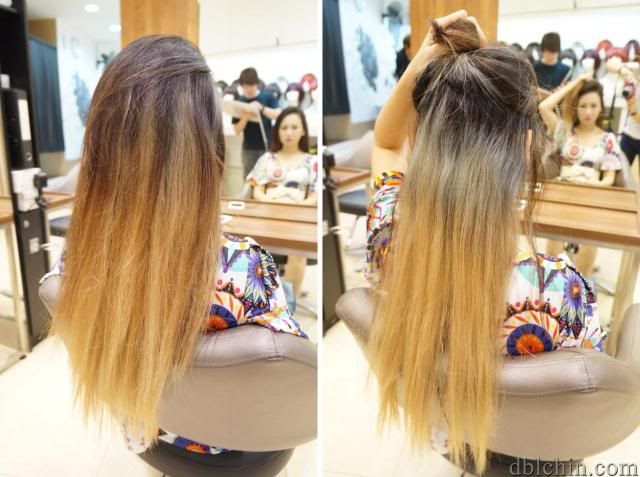 The regrowths and tinge of faded blue from the last hair session.
So I came in with the unruliest hair possible and let Justin work his magic.
He asked me what I wanted this time round because I normally got 1 million request and that I'm a true
blue
 indecisive bitch. For one moment I want this colour and the next I want another, is like I'm forever toggling between decisions. wtf me.
This time round I decided to go with the flow and let him troll my hair like a boss. I could tell he was a little taken aback when I nonchalantly replied 'up to you', amazed that I would go easy on him.
When he said ' Ok lets go green!'
I was like okay…*eyes darting but still trying to look calm* but In my heart I was struggling to stop him because I dowan to look like Oscar the Grouch stepping out of the salon.
I was still having the green monster imagery until he showed me this swatch.
hair operation in progress, Oceanic blue that is! 
So I chey him and say this one not green ley, is blue! He replied in his default soft spoken manner 'Oh, because your hair has yellow undertone so it will look more greenish than the swatch u saw here.' *Then Proceeds to apply colour on my hair*
So the end result came…holy mama!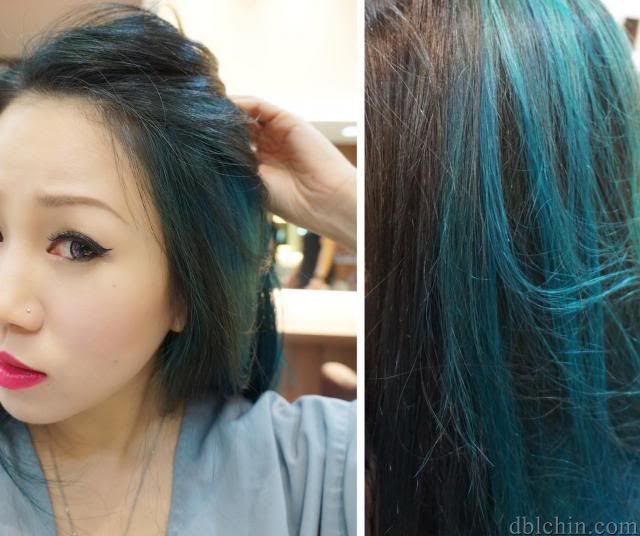 Gorgeous shade of aquatic colours!
The result was beyond expectations.
Like an accidental ombre it was more than just blue, is like a gradation of deepness from the sea at Boracay. The almost black looking sections are similar to deeper areas of the sea where the sun couldn't reach therefore it looks dark and gloomy and the lighter blues are like the shallower areas of the seas, clear and glinting.
A heap of difference between the before and after treated hair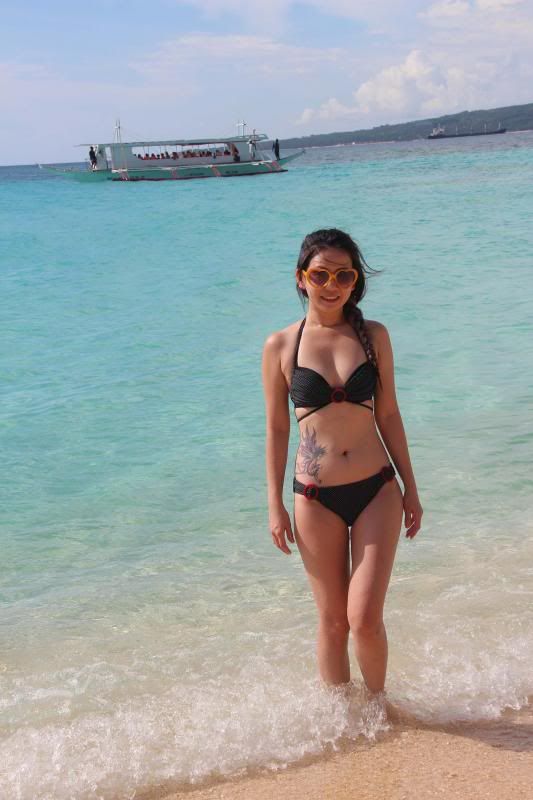 Pic of Boracay Sea for reference, please look beyond the bikini babe. 
There are 2 people I would like to thank,
Justin and his assistant Alan for putting in so much effort to make me look (ready? For I'm going to say this shamelessly…..) so gorgeous!
My hub vaguely mentioned that Justin looks like Glenn Ong. 
So hardworking he forgot the hair clip on his sleeve, some men are never camwhore ready.
I basically made full use of my day out in town, headed off to Milly's to get my nails done after the session with Shunji Matsuo.
Been dying to get a proper manicure but with school I think is best to keep my them neat and safe. And when I'm finally done with my exams, I quickly head down to get myself pampered!
I selected an available template in floral for a girly getup done by Chole.
 'Clara' was painted on the ring finger of each hand.
I'm sure you have seen the sneak peekutres on my facebook and other Social Media accounts but here's a full #OOTD that was exclusively only to this blog, lol.
Loud psychedelic printed dress with slightly bat-winged sleeve. Bought this together with the Jewelled tunic shown
here
. I must get hold of the shop name the next time I visit!
Belt this up for a more shapely figure
Here's a closer shot of my hair that I couldn't admire enough.
Look for my trusty colourist Justin @ Shunji Matsuo Hair Salon:
Appointments: (65) 62381522, (65) 62381514
Hasta la vista Dblchinis!
♥Dblchin
*Treatment is sponsored, opinions are my own.