*Sponsored Treatment
I mean for god's sake plastic surgery is disturbing, uncomfortable and pain. yes pain.
Would love to do it if I could avoid the cycle of cutting up and sewing me back like a tormented doll.
My double chin is a constant eyesore, it lurk around starting from the day I was born, many people shed their baby fats as they grew older but sadly it didn't happen to me, yes FML.
I constantly think of getting rid of my nemesis, consulted different aesthetic doctors but never got the chance to do it due to the fact that there is so much alteration it could sum up to a hefty amount.
If only money fall from trees.
Sometimes I believe that if I pray really hard, I could replace agony with ease.
True enough, one day, like 3 weeks ago, Bianca from Myfatpocket sent me a text message asking whether I would be interested in this RFVac treatment from Prive Clinic that will help me with my double chin.
Without a doubt I agreed to it and headed down for my first session.
This is a before picture, no editing, camera angle shot at eye level.

I'm not overweight but I have this section of baby fat hiking under the flap of my chin, you notice this curvature rounded outwards? When I bend my head down to look at my feet, the section gets squashed real bad amplifying the impact of my double chin. Ugly Swee.


So Before I begin my treatment, Doctor Karen Soh elaborates a little about skinny people having fat buildup and the treatment that I'm about to receive.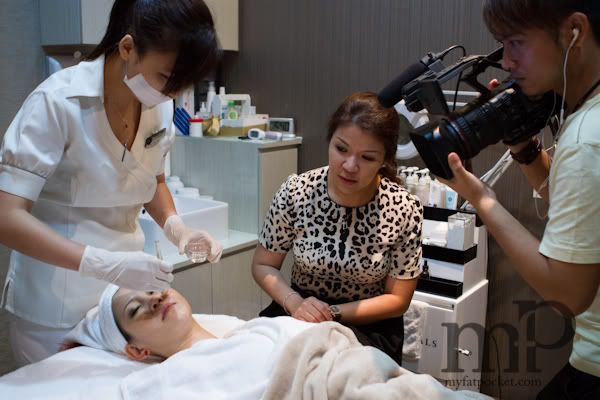 Quoted from MyFatPocket's website:
"RFVac (Radio Frequency Vacuum) uses bi-polar radio frequency and integrated vacuum to even out stubborn fat pockets, reduce the appearance of cellulite and improve skin tone. The treatment combines bi-polar RF and vacuum modes into one device, to enable volumetric RF thermotherapy at different tissue depths within the body.
The vacuum draws the skin into the treatment head as RF energy is delivered to enable effective heating, evening and tightening of underlying tissue."
More of me receiving my treatment in this video.
I actually gone for 2 sessions of RFVac and I could actually feel a difference.
Best of all, it is a painless procedure (no anesthesia is required) and most importantly safe.
No downtime is needed thus makes it easy for me to walk out of the clinic without looking like somewhat strange.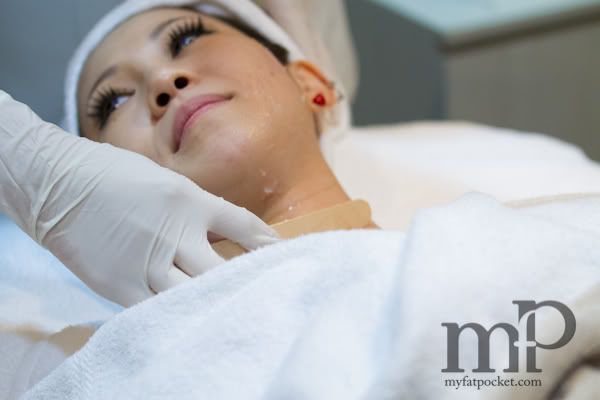 I mentioned in the video that the treatment was pretty relaxing, except for a queer bionic sound that might be exceptionally screeching, other than that I pretty much enjoyed the whole process!
I actually slept throughout the treatment, I think maybe is just me I can sleep through almost everything.
Doze of Brazilian wax Queen. swee.
With the host Chanel
Bianca, the one who accompanied me throughout the whole filming process.
I'm forever grateful for people who helped along the way in building up my self esteem.

shes a great company & we love to bitch.
Here's the pic you have been waiting for, I mean like you followed this post right from the beginning and you have been expecting a photo of comparison .
So here Goes.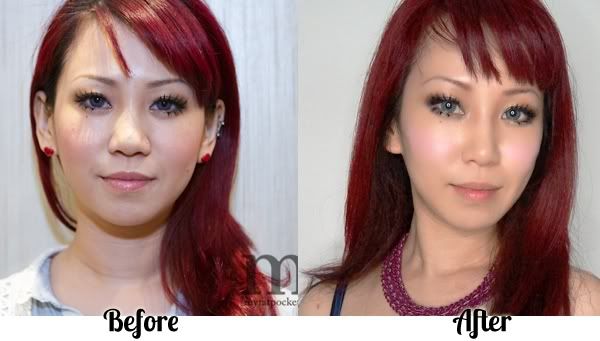 I cross my heart and sweat that I didn't not did make any alterations to the 'after' photos except that my camera (Sony Nex F3) is on cosmetic mode which only enhances the complexion.
It only took me 2 sessions to feel the difference but for optimal results is recommended to go for 6 sessions instead.
I would say the difference is subtle, I mean of course is mildly modified.
what do expect to see? Maggie Q?
Aesthetic treatments are not here to change my entire appearance, instead it is built to enhance part of my face so that certain features stands out a little more.
and
so I could feel a more confident about myself.
Thanks Bianca,
Thank you Prive.
Please subscribe to my blog for more updates!
Enter your email address below:
Delivered by FeedBurner

*Images from MyFatPocket.com
* Privé Clinic is located at One Raffles Place #05-04A Singapore 048616 enquiries: 6535 8684