Helloooooooooo dblchinis!!
Wow Is been a week or more since I blogged, I'm sorry Gotta to admit I've been catching up on my social life instead of hibernating at home.
But regardless, I did more micro Blogging Via Twitter & Instagram. So I hope U dblchinis could join me over there too~


I've blogged about sana a couple of times before, u can click on this link to refresh ur memory~
LOTD with Sana cosmetics
Natural Resource Review

Alrighty! This time we have some fabulous products from Sana for a eye makeup challenge,

First we have the Super Quick Liquid eyeshadow.


Is a felt tip eyeshadow.


U gotta twist to let the colours to ooze out.
The colours are very vibrant and it stays quite well on me but I really don't enjoy it as an eye shadow, is a little tough to glide and you can't control the depth of the colours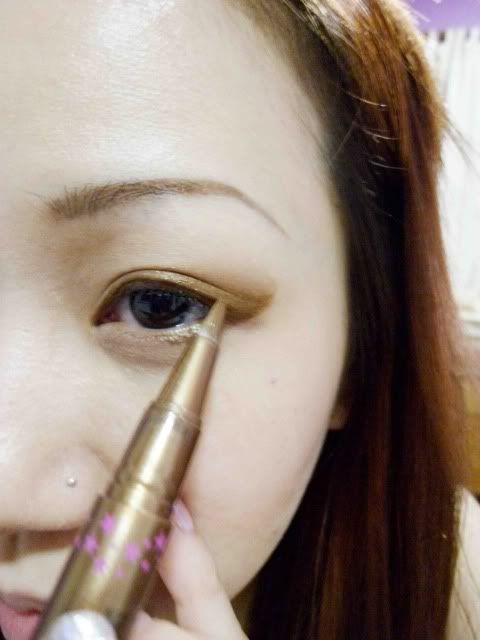 On the contrary , I totally dig this using this on my eyebrow.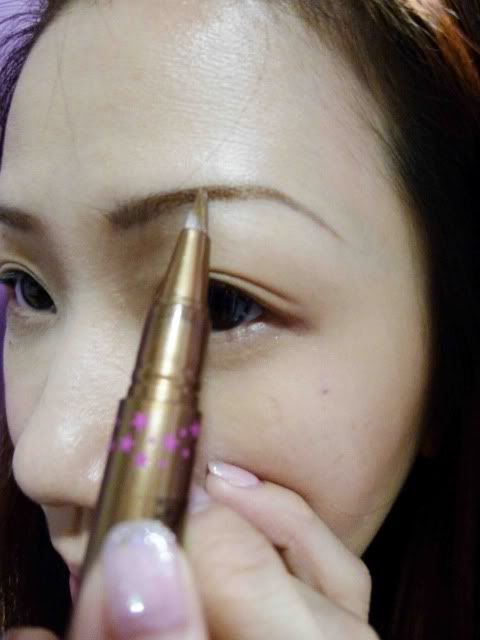 Is meant for eyeshadow usage but heck, u gotta break the rules to b creative!
Is so smudge and waterproof I do not need to b afraid of losing 1/2 my eyebrow at the end of the day or by sweeping my bangs.
The felt tip is very fine and smooth, easy to reach out to corners of your eye, but becareful when you tightline, because it is so heavy duty is a little hard to remove.


But I like how it manages to give a precise definition.
& also sometimes some liners tend to bleed but this doesn't and it not watery/diluted like some other liners.
Last but not least,
Gafixx No. F101 Mascara

I TOTALLY Dig this, the texture is dry and it manages to separate my lashes without clumping them up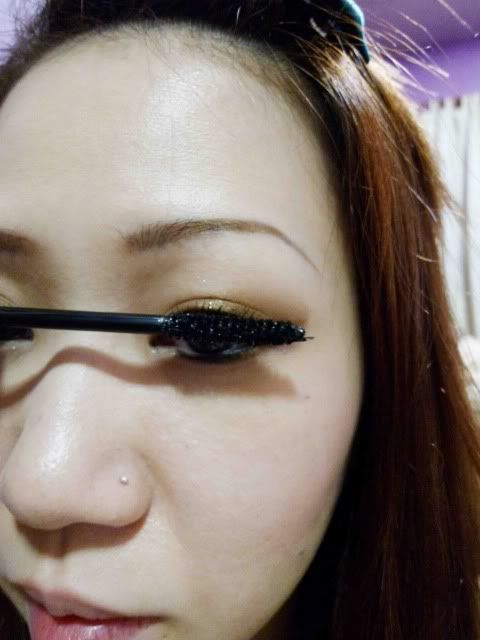 Because of its dry formula, it manages to fan out my lashes relatively well. I'm not certain about the curling power but I used my curler anyways.
So here you go! The finished product!
Ok la not surprising anymore,
U've already seen this in the beginning of my post.


Haha Pardon my brows, gotta trim them.
I intensify the brow shadow at the outer corners as well as the lash line to giv it more definition.
You can see how Matchy Matchy my shadow and brows are.

So powder on some blusher and you are ready to head out~!

Do check out
for defining your eyes contest~
You too can join~

Have fun, toodles~!
* I'm not paid to blog this.