Sponsored
Hiya dblchinis!
Guess what?…. What? WHAT!?!
I got into the finals for Adonis best beauty blog !!!
u love my blog right ?
&
you will help me to win this right?
say yes to all the above if not U won't b Able to gain access to the rest of my entry.


Ok kidding.
Anyways, all of the finalist are given 3 pampering treatments from Adonis.
They consist of 2 facials; sparkling peel, a facial treatment
&
Chakra Mystry full body and face massage.
First we had an overall introduction on background of Adonis,
the familiar household lingo~♪ Adonis 爱美雅 ♫~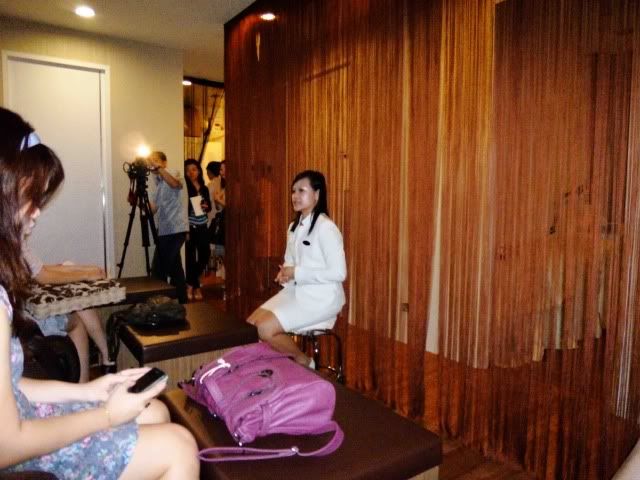 Actually Adonis is named after a Greek god of youth, beauty and vanity. That explains huh.
Adonis not only takes care your appearance, they also provide a full range of inner wellness that's y their philosophy is from the Greek belief of elements in life that combines objects of nature,
spiritual wellness of human harmony that brings out eternal youth & beauty.
After all the introduction, they conducted a health check on all of us.
We need to do a prick test on our blood to check if its healthy.


But tell u dblchinis, I'm a little reluctant to do the test coz I felt light-headed after getting pricked. I kinda knew this was coming…
Yea…I always get fainting spells whenever I go for jabs or blood test. Wuss I know, but is my body natural reaction
But I'm well taken care of, the staff from Adonis are 101% more caring than anyone, they prepared a room for me to lie down & made milo to boost my sugar level.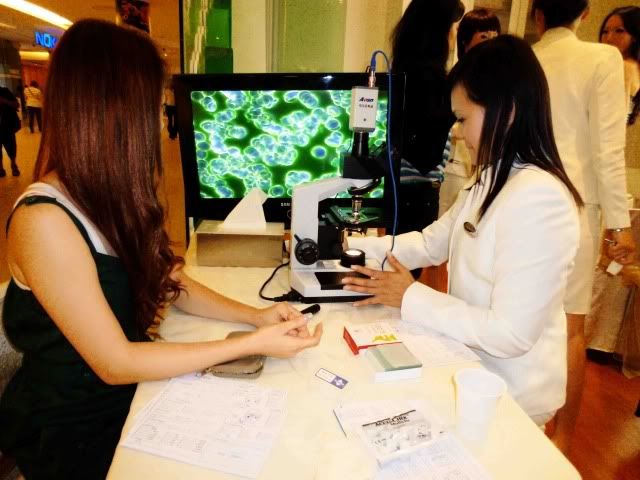 Anyways… c my blood cells…all clustered together like caterpillars.
Ok I dun even know how the hell did I relate my cells to the formation of caterpillars but these blood cells deem a unhealthy dblchin.

Healthy blood cells are in single format, not clustered together like peak hour in the MRT trains.
I've got white sparkles in the diagram, it means I'm not taking enough calcium. I hate milk & now U know y I'm still a Size 32A. (No education please. I know, I know, milk and boobs… old wives' tale)
There seems to be v little white blood cells in me too, I probably need more to balance out.
The unhealthiness in me is like….
super unhealthy.
I have no vocab to describe myself further.
After the pricked test, I went on to do an eye test.
This is very fascinating, from my IRIS the adviser can tell what is going on, after she told me a lot of unhealthy things you wouldn't wana hear.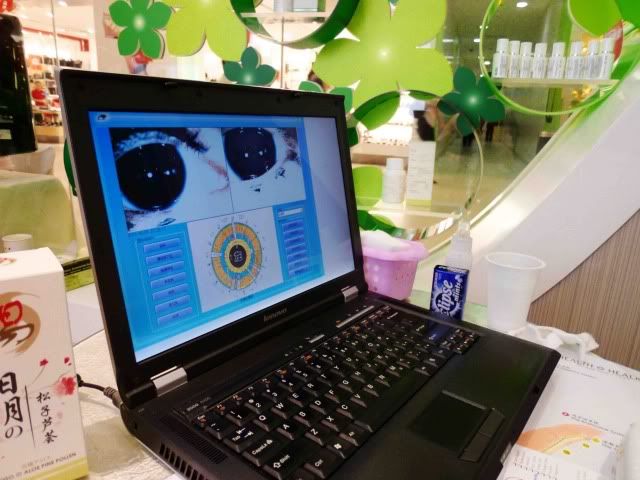 …ya me too but I'm cool like that, so I kinda needed to adjust my lifestyle for a healthier me.
So how many times have I mentioned the word (un)healthy oredy???
Anyways… the following week I went down to ADONIS @ Nex #04-50 (serangoon MRT) for my very first Sparkling Peel treatment.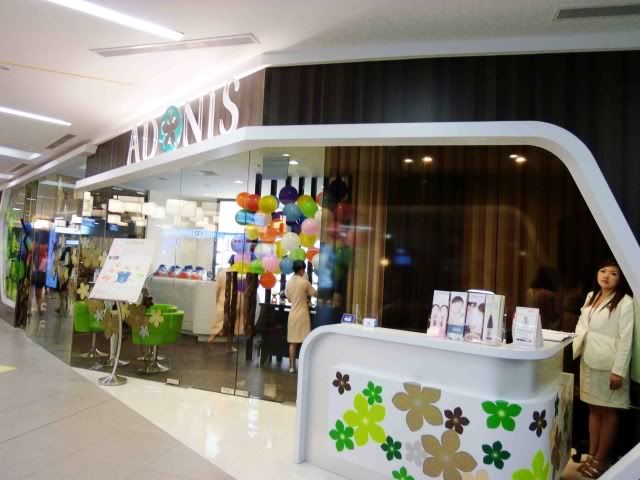 So What is sparkling peel???
Patience is a virtue,
so allow me guide u right after the commercial break…
ok right after a few photos.
I was served decaffeinated tea before my treatment.
Awesome for a ANTI-Caffeine fan, ya me.


They are made up of chinese herbs to calm and soothe my mind.
so you dblchinis wonder, if the guest are coming here for facial and body treatment y do they need these couches for???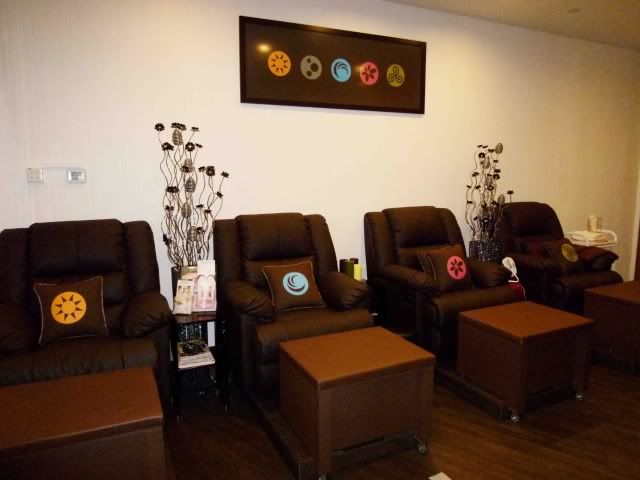 for this~!


They not only takes care of your face, body and mind but hands and legs too.
Awesome huh? Now you don't need to book appointments at different locations and rush over after your facial treatment.
So today I will b serve by Jessie.


I duno if she's comfy showing her face on my blog so I just got hold of her name tag instead.
A tunnel of rooms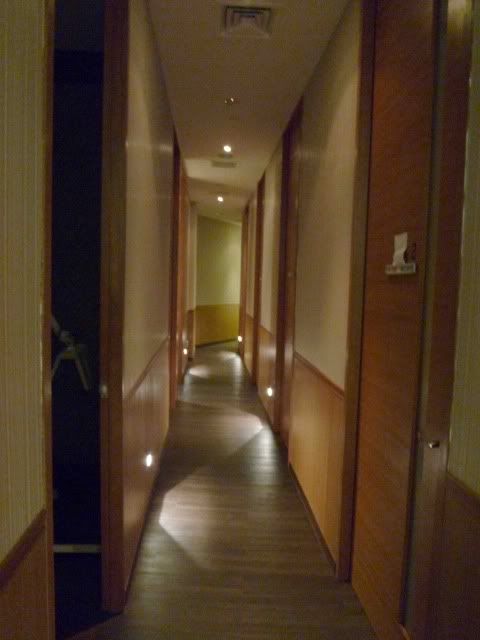 Room 5 was vacant but now is in use

cosy room with dim lights.
Ok I'm relacking at one corner oredy…

Vanity kit to use after treatment.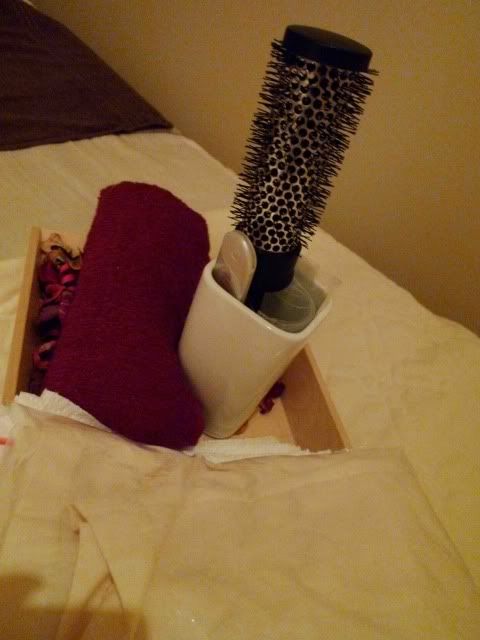 Thoughtful isn't it?
Ok I'm changing into my robe.


Miss artsy fartsy is here to stay.
I hung my clothes neatly onto the rack.
Usually I anyhow hang at home one but the room makes me wana be neat.


However, it didn't last long before as soon as I reached my pigsty.
I was given a foot soak before Jessie started working on my face.

I can smell the pure Essential oils emitted by Adonis Chakra series which I will experience in my next entry (body massage)


From the 2 continuous footy pics, U all may think that I've soak my foot in for an hour but actually 10 mins onli.
Don't worry My foot didn't melt nor turn pruneish.
Ok here comes… the most pampering session of all times (credits: Kayne West)
Step 1: Cleansing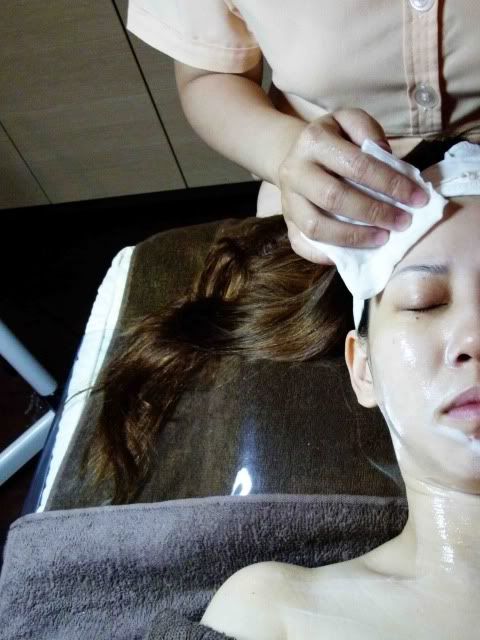 I definitely need to cleanse my face after a day of hard work.
Dust and bacteria accumulates and creates a nasty invisible film on my skin.
Adonis' signature cleansing milk is used on my face and neck…
…ok also a bit on the shoulders.
After all the basic cleansing we move on to…
Step 2: Exfoliation


Adonis Soft Peeling Gel is used on my face to scrub away the dead skin and minor impurities so as to prepare my skin for better absorption on the treatment that are coming later.
The peeling gel is so gentle on the skin that is completely safe to use on the eyes.
After going circular motion, residue starts forming and that is when she wipe and rinse off the dirty bits or dead skin u may call that.
The therapist also commented that I have a lot dead skin, ya as dead as my humor.
Step 3: Cold Mist.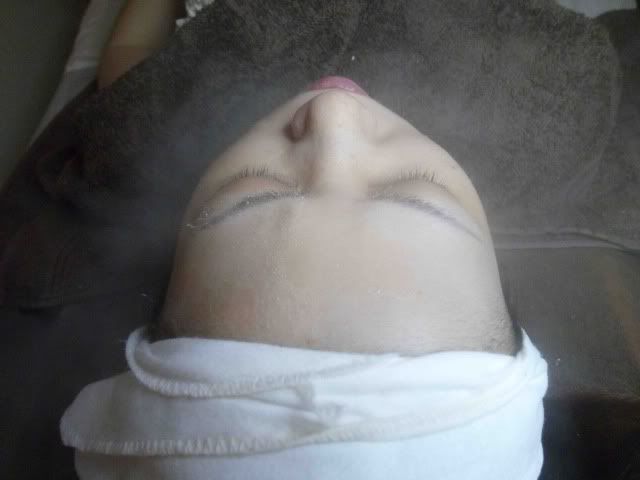 Usually when u go for facials Ur face gets hot steamed before extraction of blackheads right?
In this case is so different! Adonis used cold mist instead, the practice melting of the comedones before extract in contrast to beauty salons using hot steam to open up the pores causing them to stay enlarge.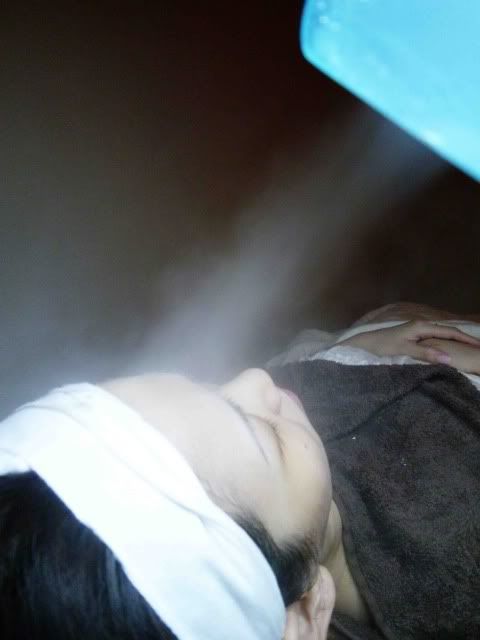 And it is definitely much easier to breathe in cold mist.
Step 4 : Extraction of black heads.
No pics but quite standard huh, either pain or very pain.
Step 5: Disinfect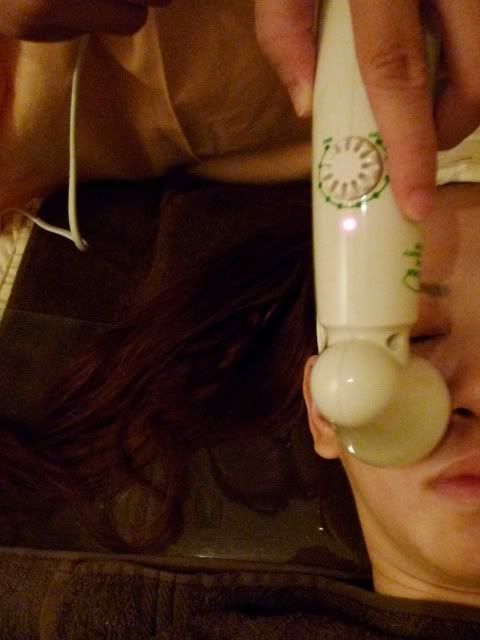 Ok Actually I duno what this step is called.
This device is just to disinfect the affected areas after extraction.
The feeling is like…erm…prickly.
After that is time to turn into a Mutant.
Step 6 : XMEN Symphony machine


The therapist will stick at lot of funky attachments with wires on different parts of my face and
there will b a peculiar current passing thru the areas. I do not know how should I describe but is vibrating, throbbing and relaxing.
C my eyelashes(left) can 'kiap' the attached point.
Who says asian lashes are short? Prove it!


The therapist mentioned that the treatment compliments at its best when all areas of my face starts to flicker during this treatment.
The machine that generates patterns of current to my face.


If you want to kill me, turn the beat to the highest.
After removing the wires and such, is time for massage.
Jessie gave me a calming massage with the aftermath of vibration still lingering on my face, absolute shiokness!
When I'm young I used to cringe whenever people tries to give me a massage but when I've learn to relax & enjoy,
Massage is like pure addiction.
Ok after setting all the foundation is finally time for application of the sparkling peel followed with masking.


By using 100% floral essence facial peel to eliminate blemishes and other skin imperfections, revealing newer and smoother skin.
Before the mask was on my face was swiped with natural scented flora acids, nothing harsh was felt in particular but I can smell the natural ingredients from the flowers. Smells good.
So I was temporary ditched for 20 mins for the peel to take effect and the mask to harden.
I dreamt that I went heaven and back (think I really did)

So Jessie came back to get me and removed the mask.
She applied the basics on me; toner & moisturizer to keep my skin feeling supple.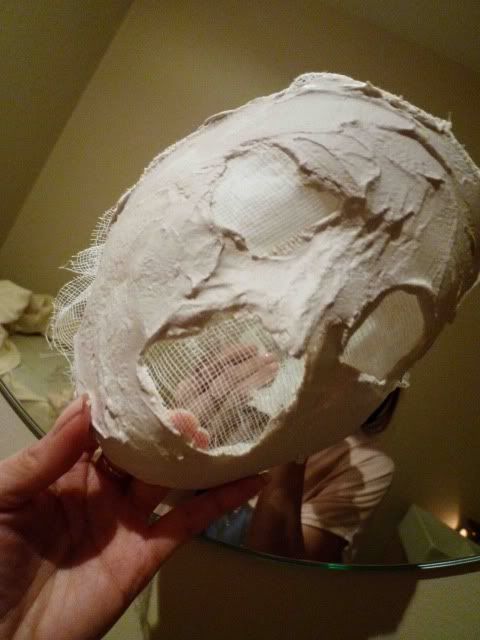 When the session ended, I took a camwhoring pic with the mirror.

The difference is significant, I can feel my skin brightens up instantly.
I can swear to that, if is untrue I'll pick my dog's poo using my bf's hand.
Yes is true, affirmative.
However, I suffered mild peeling around the nose area the next few days but no biggie coz peeling means rejuvenating of new skin. so yay to that!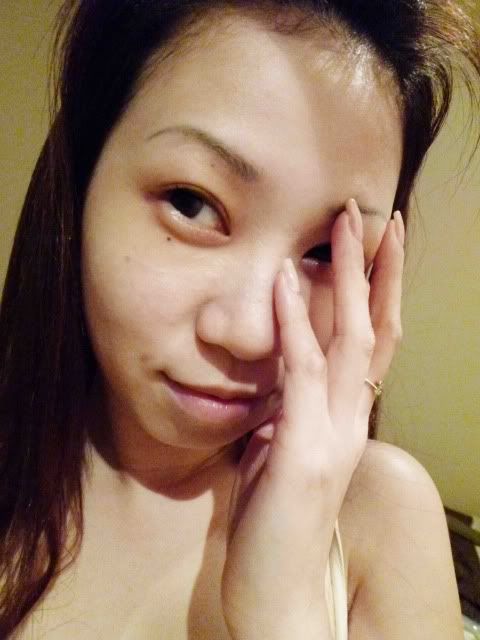 BTW Sorry this pic a bit porno but that's the best I could take after waking up from a dream.
So don't forget to 'LIKE'
Adonis FB PAGE
you also got to vote voTE vOTE VOTE !!! kays?

One vote from you, One vote a day would b appreciated!
Toodles~
I'm not paid to blog this.