Hello!
Since I have a bit of time (on a Saturday morning before I head for my makeup assignment) I might as well draft a quick blogpost but think you won't be able to get to see it until today which is…erm monday so good luck on trying to search for a post that never exist until now.
Felt accomplished with my constant updating recently, I'm so unpredictable I duno when will I go on a momentarily hiatus of slack mode again so while I have the drive I shall blog many many post!
To kick off with today's title, I shall present you with a self-obsessed camho, not that I can help it but this way it shows up better in blog previews, say right not?!
Read about my the products I've used for this look here. 
Actually I wanted to share with you this product I bought online from
Qoo10
 originated from Taiwan which I named it 'da bomb' aka 'double eyelid gauze' aka '
Eye Tape
' from
Miss Bow Bow
.
This thing (like I said) is truly amazing because unlike normal double eyelid tape/glue I have difficulty piling on colours but with this, is a breeze to apply layers of eye shadows and also able to achieve create depth/ crease!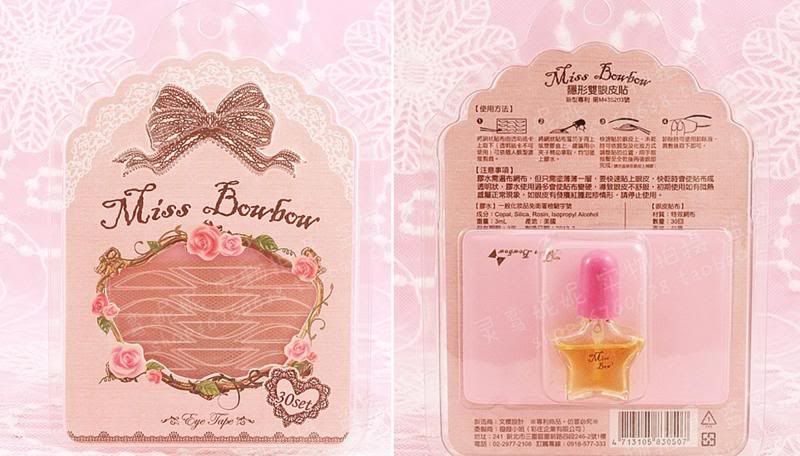 Miss Bow bow Eye tape Professional Version comes in 30pairs per set $17.90 with glue included.Pics credit to jassbellevie on Qoo10
The pic on the left filled with strips of thin gauze-like material is the actual product that I'm talking about here, the crescent outline is almost similar to the shape of a normal double eyelid tape except it had holes in it which makes it less visible when applied onto the eyes.

Do note that there is this plastic film that serves as a backing so do not attempt to paste the backing together with the gauze on your eyes ok, I haven't tried doing it but I think u will look foolish like that.
Also this type of double eyelid tape needs to work hand in hand with the glue provided. The glue is da bomb No.2 because unlike Clear Eyetalk (available at watsons) it doesn't leave a funny look film after application and you can tap it until the glue dries it'll still look natural and easy for your eye shadows to come on.
Regarding the method of application, you can watch the video here
For those that do not understand chinese, you can see that she actually applied 'Eye Tape' on the opposite way of how we normally do with an eyelid tape. This is because her eyelids have more accumulate fats thus is harder to achieve the double eyelid crease by applying it the 'usual' way. In order to support, lift up and create the fold she flipped the eye tape over to create her desired outcome.
If you have thick lids like hers you can try doing it her way. For the rest, follow her instructions but with the crescent is facing down like how we normally paste a double eyelid tape.Miss bow bow comes in 2 version, The
Mild Version 
 and the Professional Version (above). Although I didn't purchase the Mild version, I believe the eyelid gauze is the same, the difference is the glue. One is white and the other is clear in colour.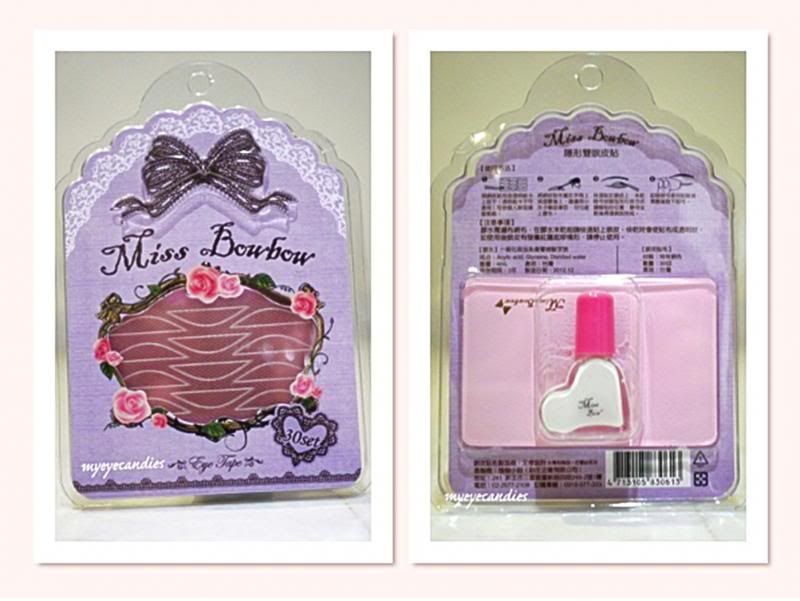 Miss Bow bow Eye tape Mild Version comes in 30pairs per set $16.50 with glue included. Pics credit to jassbellevie on Qoo10
You can take a look at the difference shown here, my crease is higher than before and there is more room to draw my eyeliner and stick on falsies. I could go a little higher to make my double eyelids look more parallel but I guess I didn'y because this is the first few attempt thus toning down the risk level, maybe I'll show you another time where I have a thicker and higher crease.
My key object is to enhance my eyes not alter my looks, thus a subtle different makes a whole lot to the entire look. Also see how invisible it looks! This is a close up so of course it will show up a little more obvious over here but when you look at the over all picture, you an barely see a thing!
The best thing about Eye Tape is when I blink there it doesn't shows up a film of something on my eyes, no uncomfortable feeling and do not need to be afraid of the person I'm conversing to staring awkwardly at me.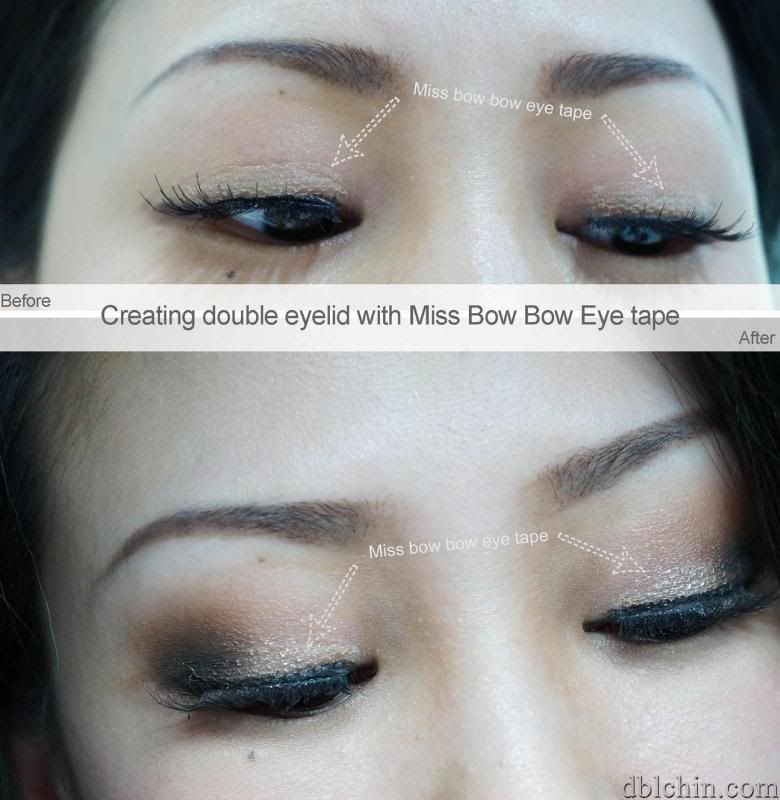 No obvious marks of Eye tape, only Tiny bumps seeping through that is pretty much barely there.
Hope you like my review :D
♥Dblchin
*Products are Not Sponsored and opinions are entirely my own.